How to prevent cockroaches
---
It may seem obvious and be a given but, one if not the single most important thing you can do to prevent cockroaches in your home is to clean thoroughly. From cleaning work surfaces to moving piles of boxes and laundry, cleaning regularly will mean that food sources or moisture that cockroaches are often drawn to will not be present. Disposing of garbage is another must when it comes to acting against cockroaches. As the saying goes 'One mans junk is another mans treasure.' Bin bags or trash that is not properly closed can be infiltrated easily by pests such as cockroaches.
What else can I try?
In some cases, unfortunately the answers to your pest problems lay outside of your home. A popular remedy product available in stores is liquid sprays which are designed to deter cockroaches. Once diluted, the liquid can be sprayed into cracks and crevices where roaches like to hide. You can also spread it on surfaces and wipe counters with the solution. If you are curious as to how to get rid of roaches quick, this is one of your best bets
Unfortunately, the truth of the matter is cockroaches are very persistent even if you follow these DIY tips, you may still have an infestation causing havoc. If you have given these tips a try and you still have no joy, you probably need a professional pest control exterminator to treat your home.
Let us help keep you safe, call us for your pest removal needs today – phone 1300 766 614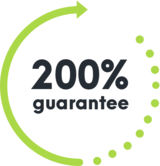 WE'RE NOT HAPPY UNLESS YOU'RE HAPPY
SEE HOW IT WORKS
With Competitive Pest Control Services you'll never have to worry about paying for a job that hasn't been done.

If you're not satisfied with our services, we'll not only give you your money back, we'll return it to you twofold. That's right: you'll not only receive a full refund, we'll also pay to have your pest problem sorted by our competition.*

We're always trying to raise the standard of service, it's one of the reasons we were name Australian Pest Manager of the Year four times in the past six years. When you employ our services, you know your pest problem will soon be a distant memory. What could be more satisfying than that?

*Please contact us to hear more about our 200% Money Back Guarantee - as due to issues sometimes outside our control, not all services may be covered by this offer.
Talk to us about pest control for your home or business