What exactly are bed bugs?
---
We have all heard about dreaded bed bugs but what exactly are they? They are small, red or brown parasitic insects that bite the skin of sleeping humans and other animals to feed on their blood. Bedbugs are not known to spread disease; however, they can cause other public health and economic issues. It does not matter if you are in your home or a hotel. The place you stayed can be immaculate or grimy. Bedbugs do not discriminate and can make their homes in pretty much any space if they have caught a ride on something you have brought into your property from a place where they got into your personal belongings. Unfortunately bed bugs can survive pesticides fairly by simply moving away from sprayed or treated areas and finding new places nearby to live and breed in.
What do these insects look like, and how can I identify them?
They're flat and an fairly rounded shape, not circular or long and around a quarter of an inch long. Unlike fleas and ticks they crawl but don't fly or jump. A tell tale sign that they have been around is light brown molted skin. If you find this, you can be sure this is where they live. They small cream coloured eggs. Often they do not stay on human or other animal skin once they have got what they need.
Let us help keep you safe, call us for your pest removal needs today – phone 1300 766 614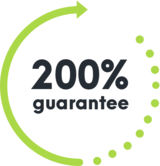 WE'RE NOT HAPPY UNLESS YOU'RE HAPPY
SEE HOW IT WORKS
With Competitive Pest Control Services you'll never have to worry about paying for a job that hasn't been done.

If you're not satisfied with our services, we'll not only give you your money back, we'll return it to you twofold. That's right: you'll not only receive a full refund, we'll also pay to have your pest problem sorted by our competition.*

We're always trying to raise the standard of service, it's one of the reasons we were name Australian Pest Manager of the Year four times in the past six years. When you employ our services, you know your pest problem will soon be a distant memory. What could be more satisfying than that?

*Please contact us to hear more about our 200% Money Back Guarantee - as due to issues sometimes outside our control, not all services may be covered by this offer.
Talk to us about pest control for your home or business