Differences between Vipers and Cobras
---
Vipers and Cobras are two types of snakes you do not want in your vicinity, they can be fatal in some cases and both highly venomous and poisonous, but what exactly are the differences between these two types of snakes?
All vipers are venomous in nature and have long notably hinged fangs. They also have pointed triangular faces. It is common to find the more venomous vipers in tropical areas, such as South America and Africa, Vipers found in colder and more northern climates, such as the black or European adder tend to have more mild venom.
Cobras are a type of poisonous snake with hollow fangs on the upper jaw. Unlike vipers, cobras have more rounded (sometimes hooded) heads, cobras also have rounded pupils and smooth scales. These snakes are unable to clench there fangs down on to their prey so they inject venom through their fangs. They have a fantastic sense of smell and great vision during the night, making them great hunters in both night and day.
What can I do if they are on my property?
Unfortunately, the truth of the matter is snakes are very dangerous even if you are very careful, you may still have an infestation of them ready to cause havoc. It is best to consult a pest professional when dealing with dangerous pests such as these! So if you do indeed find yourself face to face with a cobra make sure you give a professional a call.
Let us help keep you safe, call us for your pest removal needs today – phone 1300 766 614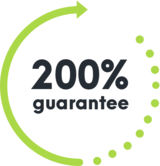 WE'RE NOT HAPPY UNLESS YOU'RE HAPPY
SEE HOW IT WORKS
With Competitive Pest Control Services you'll never have to worry about paying for a job that hasn't been done.

If you're not satisfied with our services, we'll not only give you your money back, we'll return it to you twofold. That's right: you'll not only receive a full refund, we'll also pay to have your pest problem sorted by our competition.*

We're always trying to raise the standard of service, it's one of the reasons we were name Australian Pest Manager of the Year four times in the past six years. When you employ our services, you know your pest problem will soon be a distant memory. What could be more satisfying than that?

*Please contact us to hear more about our 200% Money Back Guarantee - as due to issues sometimes outside our control, not all services may be covered by this offer.
Talk to us about pest control for your home or business