Local Mosquito Poses Year Round Threat
---
Research has found that an introduced species of mosquito is active throughout the year.
The University of Sydney's Cameron Webb said that the London Underground Mosquito originally attacked Londoners who sheltered in the underground train network during bombing in World War II.
His research based on trapping techniques found that the mosquito is active throughout the year, including during winter when most other species are dormant.
There are now concerns that the mosquito could spread serious diseases around Australia.
Dr Webb said there is a prevailing myth that the mosquitoes are only a problem in tropical climates. However, an outbreak in North America and other outbreaks locally involving Ross River and Barmah Forest viruses prove that temperate areas are also at risk. Both viruses have been reported on the edge of large cities including Melbourne, Sydney and Perth.
The London Underground mosquito is unique among mosquitoes in that it prefers to live in underground settings.
Source: http://sciencealert.com.au/news/20132507-24620.html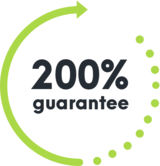 WE'RE NOT HAPPY UNLESS YOU'RE HAPPY
SEE HOW IT WORKS
With Competitive Pest Control Services you'll never have to worry about paying for a job that hasn't been done.

If you're not satisfied with our services, we'll not only give you your money back, we'll return it to you twofold. That's right: you'll not only receive a full refund, we'll also pay to have your pest problem sorted by our competition.*

We're always trying to raise the standard of service, it's one of the reasons we were name Australian Pest Manager of the Year four times in the past six years. When you employ our services, you know your pest problem will soon be a distant memory. What could be more satisfying than that?

*Please contact us to hear more about our 200% Money Back Guarantee - as due to issues sometimes outside our control, not all services may be covered by this offer.
Talk to us about pest control for your home or business