Keeping Pests Out of The Home
---
Best ways to keep Pests out of the Home
There are a variety of steps homeowners should take in order to keep pests out of their homes.
Seal Any Entry Points
It's important to carefully examine walls, floors and ceilings to discover even tiny entry points that bugs can use to enter a home. And if a gap is large enough for a pencil to slide into, it's large enough for a mouse.
Gaps should be checked around wiring, plumbing and vents. Siding should also be checked for signs of rot or bad construction.
Remove Moisture
Pests need water to survive and will tend to avoid dry environments. Gutters should be pointed away from the home and be checked regularly for leaks. Lawns should be aerated so they can better absorb water and water trapping mulch should be kept away from the home.
Get Rid of Clutter
Clutter should be removed so pests don't have a place to hide. Items should not be stored unnecessarily and if they are kept, they should be stored neatly and inaccessibly.
Source: http://www.familyhandyman.com/pest-control/how-to-keep-pests-out-of-your-house/view-all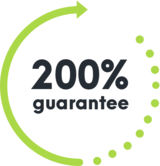 WE'RE NOT HAPPY UNLESS YOU'RE HAPPY
SEE HOW IT WORKS
With Competitive Pest Control Services you'll never have to worry about paying for a job that hasn't been done.

If you're not satisfied with our services, we'll not only give you your money back, we'll return it to you twofold. That's right: you'll not only receive a full refund, we'll also pay to have your pest problem sorted by our competition.*

We're always trying to raise the standard of service, it's one of the reasons we were name Australian Pest Manager of the Year four times in the past six years. When you employ our services, you know your pest problem will soon be a distant memory. What could be more satisfying than that?

*Please contact us to hear more about our 200% Money Back Guarantee - as due to issues sometimes outside our control, not all services may be covered by this offer.
Talk to us about pest control for your home or business