Give the Cold Shoulder to Pests
---
Give Pests the Cold Shoulder
Here are some simple housekeeping measures that will pull up the Welcome mat for pests:
If you must leave dirty dishes overnight, rinse and part-fill them with hot, soapy water.
Try not to leave unwashed dishes in the dishwasher overnight.
Clean up spills straight away, especially ones that will seep into soft furnishings and carpets.
Rinse glass, metal and plastic containers before recycling.
Store paper bags in a drawer, not sandwiched beside the refrigerator where they make a good hiding space for pests feeding on crumbs under the fridge.
Pests need water so eliminate standing water such as in pot-plant saucers and in the pan under the fridge. Also ventilate your rooms to keep them dry and caulk leaking taps to prevent seepage into walls where pests can set up residence. Remember to empty your pet's water bowl overnight too.
Pull out heavy equipment like stoves, washing machines and fridges periodically and clean thoroughly underneath them.
Preventative measures like these are known in the trade as Integrated Pest Management. They will help see of pests before they even cross your threshold.
Source: http://www.cmhc-schl.gc.ca/en/co/reho/reho_008.cfm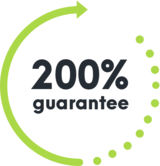 WE'RE NOT HAPPY UNLESS YOU'RE HAPPY
SEE HOW IT WORKS
With Competitive Pest Control Services you'll never have to worry about paying for a job that hasn't been done.

If you're not satisfied with our services, we'll not only give you your money back, we'll return it to you twofold. That's right: you'll not only receive a full refund, we'll also pay to have your pest problem sorted by our competition.*

We're always trying to raise the standard of service, it's one of the reasons we were name Australian Pest Manager of the Year four times in the past six years. When you employ our services, you know your pest problem will soon be a distant memory. What could be more satisfying than that?

*Please contact us to hear more about our 200% Money Back Guarantee - as due to issues sometimes outside our control, not all services may be covered by this offer.
Talk to us about pest control for your home or business