Major Chinese Food Distributor in the U.S. Operating Under Unsafe Conditions
---
A major food distributor to Asian restaurants throughout the East and Midwest of the United States was found violating numerous food safety standards according to the U.S. Food and Drug Administration (FDA), reports PCT Online. Upon inspection of the warehouse, rodents and other pests were found in close proximity to the food.
According to the FDA, New Yung Wah Trading Co., a Brooklyn, New York-based Chinese Food Distributor, had unsanitary conditions that was detailed on an October 15-30 inspection. There were both live and dead rodents and birds, and pesticides next to stored food products. Rodent feces, urine and nests were also found in and around products and workers were smoking while handling food being prepared for distribution.
On the letter sent to New Yung Wah Trading Co. from the FDA, it stated that the "FDA has serious concerns that our investigators found your firm operating under these conditions". Just earlier this year, the company was in trouble after police stopped a delivery truck with 150 pounds of spoiled food that was about to be delivered to Chinese and Japanese restaurants. The food was stored at unsafe temperatures and was dripping onto other food causing cross contamination.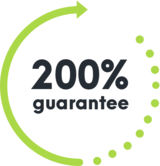 WE'RE NOT HAPPY UNLESS YOU'RE HAPPY
SEE HOW IT WORKS
With Competitive Pest Control Services you'll never have to worry about paying for a job that hasn't been done.

If you're not satisfied with our services, we'll not only give you your money back, we'll return it to you twofold. That's right: you'll not only receive a full refund, we'll also pay to have your pest problem sorted by our competition.*

We're always trying to raise the standard of service, it's one of the reasons we were name Australian Pest Manager of the Year four times in the past six years. When you employ our services, you know your pest problem will soon be a distant memory. What could be more satisfying than that?

*Please contact us to hear more about our 200% Money Back Guarantee - as due to issues sometimes outside our control, not all services may be covered by this offer.
Talk to us about pest control for your home or business