Vietnamese Rat Hunter Sells Millions of Special Rat Traps
---
Special Rat Traps
In the small village of Van Binh, on the outskirts of Hanoi, Tran Quang Thieu and his team work to save their crops from being eated by hungry rats. "It's hard to trap them, they're clever, they move very fast" says the 46 year old farmer. However, in 1998, Thieu invented a very efficient rat trap, relying strictly on extremely strong springs and no bait, reports Yahoo News.
Since then, the whole family has joined in on the family business and Thieu estimates that his traps and unique rat hunting methods have since killed millions of rats. He has sold 30 million of his traps all throughout Vietnam and even into neighbouring China and Cambodia.
Vietnam's 'Rat King' saves rice farms
Vietnam is the world's second largest exporter of rice, and an estimated 20 percent of the annual grain crop is lost to rats. Between the 43 different species of rats in Vietnam, they cause millions of dollars worth of damage, and brings the risk of communicable diseases.
In a country where Paddy Rats are widely consumed, rat hunters can also sell their rats to restaurants. Thieu sends some of his rats to restaurants and the rest are given to the farmers, who either eat them or feed them to their pigs.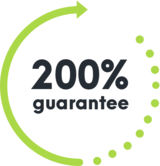 WE'RE NOT HAPPY UNLESS YOU'RE HAPPY
SEE HOW IT WORKS
With Competitive Pest Control Services you'll never have to worry about paying for a job that hasn't been done.

If you're not satisfied with our services, we'll not only give you your money back, we'll return it to you twofold. That's right: you'll not only receive a full refund, we'll also pay to have your pest problem sorted by our competition.*

We're always trying to raise the standard of service, it's one of the reasons we were name Australian Pest Manager of the Year four times in the past six years. When you employ our services, you know your pest problem will soon be a distant memory. What could be more satisfying than that?

*Please contact us to hear more about our 200% Money Back Guarantee - as due to issues sometimes outside our control, not all services may be covered by this offer.
Talk to us about pest control for your home or business