Man Dies After Contracting Rodent-Borne Hantavirus
---
A man, whose name and age have not been released, died after contracting Hantavirus, which is actually quite a rare rodent-borne disease. Investigators say he was probably exposed to the virus while repairing plumbing in a small place that had rodent droppings, or while working in a garage where rodents frequented, reports CBS Local.
The virus is transmitted by breathing it in when coming in direct contact with rodents or by disturbing dust and feces from mice nests or surfaces contaminated with mice droppings.
Symptoms of Hantavirus include muscle aches, fatigue, high fever, dizziness, headaches, chills, nausea, vomiting, diarrhea, and abdominal pain which can lead to death.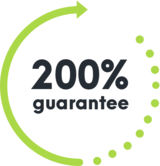 WE'RE NOT HAPPY UNLESS YOU'RE HAPPY
SEE HOW IT WORKS
With Competitive Pest Control Services you'll never have to worry about paying for a job that hasn't been done.

If you're not satisfied with our services, we'll not only give you your money back, we'll return it to you twofold. That's right: you'll not only receive a full refund, we'll also pay to have your pest problem sorted by our competition.*

We're always trying to raise the standard of service, it's one of the reasons we were name Australian Pest Manager of the Year four times in the past six years. When you employ our services, you know your pest problem will soon be a distant memory. What could be more satisfying than that?

*Please contact us to hear more about our 200% Money Back Guarantee - as due to issues sometimes outside our control, not all services may be covered by this offer.
Talk to us about pest control for your home or business