McDonalds Fined for Pest Control Breach
---
McDonalds was fined $70,000 after one of its Brisbane restaurants failed a council inspection.
The inspectors found parts of cockroaches and pest bait sitting above an ice container. The inspectors also found grease on the floor near a dishwashing area and food waste on utensils.
McDonalds said it was disappointed by the issues and has sought to redress them with new procedures, training and checking.
McDonalds said it spends over $40 million every year on training staff which includes procedures to ensure food safety.
The Elizabeth St restaurant was one of 21 restaurants to be fined a total of $370,000 as part of the city council's Eat Safe initiative.
While it was previously owned and run by McDonalds it is currently being operated by a local franchisee.
Following the breach the restaurant has now earned a four-star rating from the Brisbane City Council, representing a high standard of compliance with food safety laws.
Source: http://www.couriermail.com.au/news/queensland/fines-after-cockroaches-traces-of-bait-found-in-busy-brisbane-mcdonald8217s-restaurant/story-fnihsrf2-1226682148836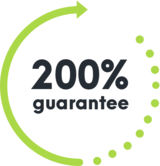 WE'RE NOT HAPPY UNLESS YOU'RE HAPPY
SEE HOW IT WORKS
With Competitive Pest Control Services you'll never have to worry about paying for a job that hasn't been done.

If you're not satisfied with our services, we'll not only give you your money back, we'll return it to you twofold. That's right: you'll not only receive a full refund, we'll also pay to have your pest problem sorted by our competition.*

We're always trying to raise the standard of service, it's one of the reasons we were name Australian Pest Manager of the Year four times in the past six years. When you employ our services, you know your pest problem will soon be a distant memory. What could be more satisfying than that?

*Please contact us to hear more about our 200% Money Back Guarantee - as due to issues sometimes outside our control, not all services may be covered by this offer.
Talk to us about pest control for your home or business