Prevention Better than Cure for Pests
---
Prevention is the best cure when it comes to pest control.
Today, the pest control industry uses sensible prevention tactics and environmentally-friendly methods to keep pests at bay before they even get close to your house. This approach has a name – Integrated Pest Management.
Here are some ways to implement your own prevention:
Tidy the yard. This eliminate standing water in which mosquitoes can lay eggs.
Clear out storage spaces like old boxes in which pests can hide.
Clean rarely disturbed areas like your mattress in which bugs can set up house.
Clear all leftovers. That means not just last night's dinner, but crumbs in the sofa, morsels under the sink, stove and fridge, and spilled sugar or sticky jam jar rings on the pantry shelf.
Find likely entrances that pests can use. Look for wall cracks and rotting timbers in which they can burrow.
Keep your house dry. Virtually all pests need water, so they may follow moisture into the house. Moist patches on your outside walls can be a clue that pests lurk inside. Another telltale sign can be mould. Mould is not only a problem in itself for humans, but can be a food source for pests.
Source: http://www.everlook.com/inner.php?aid=3367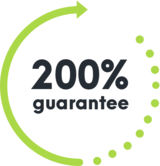 WE'RE NOT HAPPY UNLESS YOU'RE HAPPY
SEE HOW IT WORKS
With Competitive Pest Control Services you'll never have to worry about paying for a job that hasn't been done.

If you're not satisfied with our services, we'll not only give you your money back, we'll return it to you twofold. That's right: you'll not only receive a full refund, we'll also pay to have your pest problem sorted by our competition.*

We're always trying to raise the standard of service, it's one of the reasons we were name Australian Pest Manager of the Year four times in the past six years. When you employ our services, you know your pest problem will soon be a distant memory. What could be more satisfying than that?

*Please contact us to hear more about our 200% Money Back Guarantee - as due to issues sometimes outside our control, not all services may be covered by this offer.
Talk to us about pest control for your home or business