Mosquitoes are Bringing a New Disease to Australian Shores
---
Asian Tiger Mosquito
An Asian mosquito that is known to spread a debilitating virus is now making its way to Australia.
The chikungnunya virus is spread by the Asian tiger mosquito and causes severe pain.
One traveller, Barbara Rogers, said it felt like all her bones were broken and that standard pain killers such did nothing for her pain. The disease also cause a blue-red rash over her body and severe joint pain.
Reports of chikungunya in Australia jumped from 19 last year to 73 in the first half of this year. The disease causes arthritis that can last for months and there is no cure or vaccine at the moment.
Chikungunya became a more serious disease when it mutated in 2005 on an island in the Indian Ocean. The change allowed it to spread more effectively through the Asian tiger mosquito.
After sweeping across Africa and Europe, the mosquito and virus are now a serious health risk for Australia.
The mosquito usually enters the country on manufactured equipment and boats. Once it arrives, it spreads through normal human transport systems.
The Asian tiger mosquito bites aggressively and health officials are concerned this could exacerbate the spread of the disease.
Source: http://www.abc.net.au/radionational/programs/backgroundbriefing/2013-07-21/4823184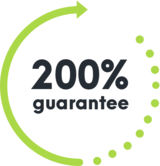 WE'RE NOT HAPPY UNLESS YOU'RE HAPPY
SEE HOW IT WORKS
With Competitive Pest Control Services you'll never have to worry about paying for a job that hasn't been done.

If you're not satisfied with our services, we'll not only give you your money back, we'll return it to you twofold. That's right: you'll not only receive a full refund, we'll also pay to have your pest problem sorted by our competition.*

We're always trying to raise the standard of service, it's one of the reasons we were name Australian Pest Manager of the Year four times in the past six years. When you employ our services, you know your pest problem will soon be a distant memory. What could be more satisfying than that?

*Please contact us to hear more about our 200% Money Back Guarantee - as due to issues sometimes outside our control, not all services may be covered by this offer.
Talk to us about pest control for your home or business