Cockroaches and Rats Take Over Leeds Hospital
---
Cockroaches and Rats found in Hospital
Pest controllers have attended hospitals in Leeds 771 times over the last 30 months to deal with a vast array of pests.
Cockroaches have been found in operating theatres, rats have been found near a crèche and a swarm of flies was found in an antenatal wing. There have also been multiple reports of ants, silverfish and bedbugs since the beginning of 2011.
Critics have questioned hygiene standards at the hospitals. They've said it's disgraceful that disease carrying pests have been allowed to flourish in places full of vulnerable, sick people.
Pest controllers removed cockroaches from a children's theatre in early 2011. They had to remove cockroaches from boxes and even a light fitting, as well as cockroach eggs.
A spokesperson from Leeds Teaching Hospital responded that they have a zero-tolerance approach to pests on site. All incidents are recorded and reported to pest controllers immediately. He said that the old age of the buildings means that pest problems will emerge from time to time because the buildings have more entry points for pests to use, despite the work done by cleaners.
However, many medical services are now being moved into more modern, pest resistant facilities. Older buildings are being used for services other than patient care.
Source:  http://www.yorkshireeveningpost.co.uk/news/latest-news/top-stories/revealed-cockroaches-flies-and-rats-that-infest-leeds-hospitals-1-5923576
Read more: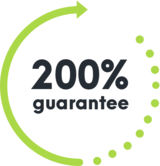 WE'RE NOT HAPPY UNLESS YOU'RE HAPPY
SEE HOW IT WORKS
With Competitive Pest Control Services you'll never have to worry about paying for a job that hasn't been done.

If you're not satisfied with our services, we'll not only give you your money back, we'll return it to you twofold. That's right: you'll not only receive a full refund, we'll also pay to have your pest problem sorted by our competition.*

We're always trying to raise the standard of service, it's one of the reasons we were name Australian Pest Manager of the Year four times in the past six years. When you employ our services, you know your pest problem will soon be a distant memory. What could be more satisfying than that?

*Please contact us to hear more about our 200% Money Back Guarantee - as due to issues sometimes outside our control, not all services may be covered by this offer.
Talk to us about pest control for your home or business