What Should You Do if You Discover Termites?
---
Termites can cause significant damage to a property and need to be dealt with quickly and thoroughly.
How To Get Rid of Termites in House?
People renting a property should check their rental agreement and speak to their landlord to discuss a solution. Although residents in an apartment can spot treat their property, if the infestation affects the entire building, their efforts will be of little use.
It's important to stop water damage from occurring in the home as termites flourish in moist wood. As that water damage spreads, so will the termite problem. Moisture can also encourage mould which is harmful to the health of residents.
A professional should be called in to a treat a termite problem and the cost of treatment will vary depending on the extent of the infestation. It's important for residents to seek a second and third opinion to ensure they receive an accurate assessment and quote. It's also important to only deal with licensed, insured operators who use integrated approaches that minimise the use of harmful chemicals.
Source: http://www.kentucky.com/2013/08/03/2747687/ask-angie-getting-rid-of-termites.html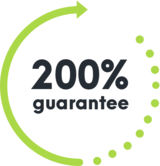 WE'RE NOT HAPPY UNLESS YOU'RE HAPPY
SEE HOW IT WORKS
With Competitive Pest Control Services you'll never have to worry about paying for a job that hasn't been done.

If you're not satisfied with our services, we'll not only give you your money back, we'll return it to you twofold. That's right: you'll not only receive a full refund, we'll also pay to have your pest problem sorted by our competition.*

We're always trying to raise the standard of service, it's one of the reasons we were name Australian Pest Manager of the Year four times in the past six years. When you employ our services, you know your pest problem will soon be a distant memory. What could be more satisfying than that?

*Please contact us to hear more about our 200% Money Back Guarantee - as due to issues sometimes outside our control, not all services may be covered by this offer.
Talk to us about pest control for your home or business