Do I really need pest control in winter?
---
Flies, mosquitos and other flying insects tend to disappear during winter in Australia. This is especially so in states, regions, cities and towns that see noticeable shifts in both daytime and nighttime temperatures. But if you thought the arrival of the cooler months signalled the end of bothersome pests altogether, think again.
While the summer and spring months in Australia are generally marked by the proliferation of outdoor bugs and insects, winter comes with its own unique challenges. Mice, rats, spiders and even termites, for example, tend to migrate inside once the mercury starts to drop, looking for warmth and shelter plus somewhere to eat and breed.
So, if you're wondering whether you really need pest control services in winter, the answer is yes. Call Competitive Pest Services for help in dealing with winter pests in Australia or check out the following article for more info. In it, you'll find practical advice regarding pest control in winter and the most common types of winter pests in Australia.
Importance of winter pest control
Winter pests such as rodents, cockroaches, spiders and even possums can contaminate foods and surfaces, thereby spreading disease via the transmission of harmful pathogens. They can also be a nuisance when they're noisy at night or cause costly damage to your property.
Keeping the warmth in and these pests out is therefore imperative if you'd prefer not to share your house with unwanted visitors. However, effective winter pest control begins before winter actually arrives. Our recommendation is that you get in touch with us during autumn at the very latest. If you're currently experiencing a pest invasion of some type though, it's not too late.
Our crew can eradicate pests from problem areas in your home, such as roof cavities, the kitchen and the subfloor, whilst also implementing preventative measures to ensure they don't return. These measures include removing spider webs and treating the affected areas, baiting or relocating rodents plus spraying for cockroaches and termites using eco-friendly chemicals that won't harm your family or your pets.
Winter pests in Australia
Some of the most common winter pests you can expect to encounter in Australia include the following:
Termites
It's widely known that termites are active all year-round and especially during summer. But, did you know that subterranean species are prevalent in winter, too? These termites have been known to enter homes in search of warmth and wood during the colder months. They then proceed to destroy your home from the inside out. If you're worried that termites have invaded your property, it's essential you contact us immediately to prevent further damage.
Rodents
Rodents such as rats and mice remain active in winter. They will enter through small cracks or holes, which only need to be as big as a 20c coin for small mice, and gnaw on wood beams, electrical wires and insulation. Once inside, it can be difficult to get rid of them, given their propensity for nesting in dark, secluded and hard to reach places. Tack on the fact that rodents such as rats and mice are prolific disease carriers and the case for eradication becomes all the more stronger.
Cockroaches
Cockroaches hate the cold, which means they'll do their best to locate the warmest areas in your home to settle. This is a problem for homeowners since the warmest parts of your house are usually also high traffic areas for your family. Bathrooms and kitchens are their preferred haunts, however, they'll congregate wherever there is adequate food and water. If left untreated, they'll continue to reproduce, eat and be a bother during the winter months.
Spiders
While some of the more deadly Australian species of spiders favour spring and summer to winter, you're still bound to come across plenty of spider webs and their inhabitants during the cooler months. Clearing out cluttered rooms, removing cobwebs and allowing us to carry out environmentally-friendly chemical treatments are just some of the ways you can keep spiders out of your home. The most important thing to remember when it comes to spiders is that taking care of them today ensures there are less of them come spring.
10 pest control tips for winter
Pest control tips that we've found to be effective for keeping unwanted visitors at bay during winter include:
1. Store firewood at least 20 metres away from your home
2. Add a screened vent to your chimney
3. Seal up all cracks and holes around the exterior of your house
4. Fix damaged screens on doors and windows
5. Ensure your roof cavity is well-ventilated
6. Repair leaky pipes and unclog drains to remove excess moisture
7. Install termite barriers around the foundation of your home
8. Remove clutter from the bedroom, kitchen and bathroom cupboards
9. Trim back any shrubs on tree branches that hang over your roof
10. Clean out any storage rooms in your home
Call CPS today on 1300 766 614 for safe, prompt and professional winter pest control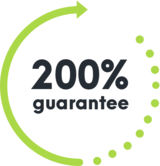 WE'RE NOT HAPPY UNLESS YOU'RE HAPPY
SEE HOW IT WORKS
With Competitive Pest Control Services you'll never have to worry about paying for a job that hasn't been done.

If you're not satisfied with our services, we'll not only give you your money back, we'll return it to you twofold. That's right: you'll not only receive a full refund, we'll also pay to have your pest problem sorted by our competition.*

We're always trying to raise the standard of service, it's one of the reasons we were name Australian Pest Manager of the Year four times in the past six years. When you employ our services, you know your pest problem will soon be a distant memory. What could be more satisfying than that?

*Please contact us to hear more about our 200% Money Back Guarantee - as due to issues sometimes outside our control, not all services may be covered by this offer.
Talk to us about pest control for your home or business