Practical pest prevention tips for autumn in Australia
---
Spring and summer get a bad wrap when it comes to pest invasions in Australia, but the autumn months can also be particularly devastating. The good news is that there are more than a few ways you can prevent pest and insect infestations during autumn.
These techniques, which have been tried and tested by your local Competitive Pest Services crew, have both financial and practical advantages. Sealing holes and cracks in your building, for example, keeps heat in and common autumn pests out. This is a win-win situation since you'll save money on heating and hinder rodents, termites and other creepy crawlies from invading your home or business.
For more autumn pest prevention tips, check out the following article. For prompt, professional and money-saving pest inspections in Australia, book an appointment with CPS today.
Common autumn pests
If you thought that pest invasions only took place during the warmer months, think again. The majority of Australia rarely gets so cold as to kill off invasive insects, bugs or rodents. Combine this with the fact that many pests seek shelter from the elements during autumn and it's obvious how they can still pose a problem.
To safeguard your family or your business from the often costly and always stressful effects of a pest invasion, it's important to know what the most common autumn pests are. This way you can identify the early stages of a pest problem and act quickly before it gets out of hand.
⦁ Termites: Some subterranean termites are just as active during the cooler months as they are during summer and spring. They also love moisture which obviously becomes more of a problem as the average days of rainfall increases in autumn.
⦁ Rats and mice: To rodents such as rats and mice your home is a sanctuary during autumn. Cosy, warm and with a readily available supply of food and water, they'll set up shop if given half the chance.
⦁ Cockroaches: One of the most common autumn pests AND the most prevalent pest in Sydney is the German cockroach. Come winter they begin to breed, which makes treating them during autumn critical to eradicating them.
Home and business invasion hotspots
Rat Olympics in your office's roof cavity? Cockroaches partying in your kitchen at night? Termites feasting on the foundations of your home?
It's true that rodent and insect infestations can occur in any part of your home or business during autumn. What you need to know is where these invaders are most likely to take hold. By arming yourself with this information, you can keep tabs on whether or not your property has been compromised. Below are a few of the main places that the Competitive Pest Services team regularly find pests:
⦁ Kitchen cabinets (especially under the sink)
⦁ Rubbish bins
⦁ Pipes and drains
⦁ Storage rooms
⦁ Woodsheds
⦁ Roof cavity/ceiling
⦁ Garages
⦁ Bedroom closet
Autumn pest prevention tips
Want to keep pests out of your home or business this season? Here are our favourite autumn pest prevention tips for Australian properties.
Seal any holes or cracks in your roof
Your roof cavity or attic is one of the best hiding places for rodents and other common autumn pests. By keeping it dry, sealing off any access points and making sure any damaged tiles or tin is replaced, you can ensure they never get a foothold in your roof.
Install screens on doors and windows
Screens on doors and windows keep air flowing through your home or business without allowing pests to enter. Rubbing citronella oil on these screens with a paper towel can also provide an added layer of protection when it comes to keeping pests at bay.
Keep storerooms clean and tidy
Rodents such as mice use shredded paper for their nest while SPIs (Stored product insects) will actively and indiscriminately chew through file boxes or other storage room goods. Keeping these rooms clean and tidy is therefore imperative in halting small pest invasions before they turn into major problems.
Stack firewood away from your home
Autumn is generally the time of the year when we start collecting and stacking firewood in preparation for the cooler months. Did you know though that storing wood against your house can attract unwanted attention from pest species? This is especially so if the wood becomes wet, as it will retain moisture and become a hotspot for creepy crawlies. Make sure to stack firewood far from your home in order to prevent this.
Store food in airtight containers
To leave food on the countertop or lids off containers is akin to sending out an invite welcoming common autumn pests. Sugary snacks, fruit and starchy products are particularly attractive to pests. Sealing all food properly in airtight containers is a great preventative when it comes to halting insect infestations during autumn.
Rake leaves into piles and discard them
Rake leaves and mulch away from your home and any outdoor structures that are susceptible to invasion by pests. Also, keep bushes trimmed back and remember to clear out gutters of vegetation.
Don't wait till it's too late
As we always say here at Competitive Pest Services, prevention is better than a cure. So don't leave it till the final hour to arrange a pest inspection. Schedule regular inspections and stop small problems blowing out and becoming major (and expensive) issues further down the track.
Defeat common autumn pests by booking a pest inspection with CPS today – phone 1300 766 614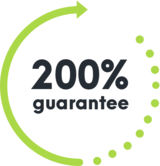 WE'RE NOT HAPPY UNLESS YOU'RE HAPPY
SEE HOW IT WORKS
With Competitive Pest Control Services you'll never have to worry about paying for a job that hasn't been done.

If you're not satisfied with our services, we'll not only give you your money back, we'll return it to you twofold. That's right: you'll not only receive a full refund, we'll also pay to have your pest problem sorted by our competition.*

We're always trying to raise the standard of service, it's one of the reasons we were name Australian Pest Manager of the Year four times in the past six years. When you employ our services, you know your pest problem will soon be a distant memory. What could be more satisfying than that?

*Please contact us to hear more about our 200% Money Back Guarantee - as due to issues sometimes outside our control, not all services may be covered by this offer.
Talk to us about pest control for your home or business