Rat-Infested Bendigo Restaurant Facing Massive Fine
---
Bendigo restaurant Indian Tavern Tandoori Restaurant is facing the prospect of a massive fine as a result of the 24 charges laid against its owners. Owners Avta Chatha and Ribina Jalil have been charged with breaching food standards and handling food in an unsuitable manner over a 12-month period.
The restaurant has been operating since 2002. According to defence lawyer Peter Chadwick, personal and family issues distracted Chatha from his duties in the day-to-day running of the business.
Chatha's mother, who resides in India, died in 2011 and Jalil's granddaughter was diagnosed with cancer in 2012. The pair owns a second business in Wagga Wagga, and the owners claim that running both restaurants added to the stress.
Pest controllers were called to the restaurant to eradicate a rat infestation, and by January, there were no rats or rodent faeces to be found in the restaurant. The owners also had restaurant staff retrained in safe food handling.
The owners are facing significant fines as each charge comes with a maximum penalty of $200,000 for companies and $40,000 for individuals.
Source:http://www.bendigoadvertiser.com.au/story/1576397/rats-infest-restaurant-owner-faces-huge-penalty/?cs=80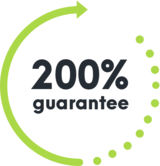 WE'RE NOT HAPPY UNLESS YOU'RE HAPPY
SEE HOW IT WORKS
With Competitive Pest Control Services you'll never have to worry about paying for a job that hasn't been done.

If you're not satisfied with our services, we'll not only give you your money back, we'll return it to you twofold. That's right: you'll not only receive a full refund, we'll also pay to have your pest problem sorted by our competition.*

We're always trying to raise the standard of service, it's one of the reasons we were name Australian Pest Manager of the Year four times in the past six years. When you employ our services, you know your pest problem will soon be a distant memory. What could be more satisfying than that?

*Please contact us to hear more about our 200% Money Back Guarantee - as due to issues sometimes outside our control, not all services may be covered by this offer.
Talk to us about pest control for your home or business