Rats and Potholes Compromise Randwick Racing Facilities
---
The training facilities at one of Australia's racing headquarters has been found to be riddled with a rat infestation, busted fencing, and potholes. Despite this, the Australia Turf Club ('ATC') has plans to increase rent and stable fees, due to a slump in wagering turnover.
Compared with the site at Rosehill Gardens, the maintenance program at Randwick is said to be lacking, according to veterinarian Tim Roberts. Trainers are responsible for the maintenance of the stalls, but it is the surrounding area that has attracted criticism.
Trainers said that giant rats can be seen scampering along the stables and making their way into the drains. One trainer jokingly said that some of the rats are so large that they can be fitted with saddles. However, the ATC has countered that it has ongoing pest control and clean-up programs in place.
Sand rolls along the stables can be observed, and one of the stalls has a hole at the bottom, which can be dangerous for the horses. Mud build-up can be found around the hosing stalls, which is a result of the water not properly passing through the drains. Some tie-up stalls have large potholes, and the guttering, too, is dotted with holes.
Source:http://www.foxsports.com.au/other-sports/horse-racing/rats-potholes-in-stalls-busted-wooden-fences-randwick-training-facilities-not-so-royal-after-all/story-e6frf41l-1226659190498#.UdIjtj55gzE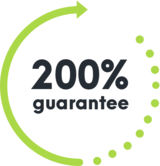 WE'RE NOT HAPPY UNLESS YOU'RE HAPPY
SEE HOW IT WORKS
With Competitive Pest Control Services you'll never have to worry about paying for a job that hasn't been done.

If you're not satisfied with our services, we'll not only give you your money back, we'll return it to you twofold. That's right: you'll not only receive a full refund, we'll also pay to have your pest problem sorted by our competition.*

We're always trying to raise the standard of service, it's one of the reasons we were name Australian Pest Manager of the Year four times in the past six years. When you employ our services, you know your pest problem will soon be a distant memory. What could be more satisfying than that?

*Please contact us to hear more about our 200% Money Back Guarantee - as due to issues sometimes outside our control, not all services may be covered by this offer.
Talk to us about pest control for your home or business