Rodent Deterrent Sparked Silverado Fires
---
According to a fire official, the Silverado Fire, in Silverado Canyon, California, which has burned nearly 1,000 acres was believed to have been ignited by the reflection of the sun on metal sheeting put up by someone trying to keep rodents out of a vegetable garden, reported ABC 10 News.
The Orange County Fire Authority, Capt. Steve Concialdi, reminded residents to "use wire mesh to keep small rodents out" and to not "ever use a material that reflects like metal sheeting – it becomes like a magnifying glass."
Despite the neighbours smelling wood burning, no action was taken since they did not see any smoke. The home owner later called 911 after the fire had started and they were not able to put it out since it was spreading too rapidly.
1,059 firefighters and five helicopters making water drops battled the fire with temperatures forecasted to top 100 degrees Fahrenheit.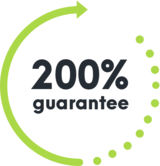 WE'RE NOT HAPPY UNLESS YOU'RE HAPPY
SEE HOW IT WORKS
With Competitive Pest Control Services you'll never have to worry about paying for a job that hasn't been done.

If you're not satisfied with our services, we'll not only give you your money back, we'll return it to you twofold. That's right: you'll not only receive a full refund, we'll also pay to have your pest problem sorted by our competition.*

We're always trying to raise the standard of service, it's one of the reasons we were name Australian Pest Manager of the Year four times in the past six years. When you employ our services, you know your pest problem will soon be a distant memory. What could be more satisfying than that?

*Please contact us to hear more about our 200% Money Back Guarantee - as due to issues sometimes outside our control, not all services may be covered by this offer.
Talk to us about pest control for your home or business