Research Demonstrates Climate & Genetics Can Affect the Life Span of Virus-Carrying Mosquitoes
---
Recent research conducted by the University of Florida indicated how genetics and the climate may have an affect on how long virus-carrying mosquitoes live, reports PCT Online. In the article written by Mickie Anderson for the University of Florida Institute of Food and Agricultural Sciences news service, Anderson outlines the research undertaken and the results of the experiment.
In the experiment, researchers studied the survival rates of mosquitoes from two laboratory-reared colonies, one from Gainesville and one from Vero Beach. Half of each of the populations was fed West Nile virus infected blood while the other half was kept as a control and fed the blood without the virus. They divided the groups once more, keeping the mosquitoes are two different temperatures, one at 80.6 degrees Fahrenheit and the other at 87.8 degrees Fahrenheit.
Results showed that mosquitoes fared better at cooler temperatures. However, Vero Beach-bred mosquitoes lived longer indicating that some groups, or strains, of mosquitoes might just be genetically hardier than others. Researchers also concluded that ingesting virus-infected blood may take a toll on the mosquito's health.
Mosquitoes transmit all sorts of pathogens to humans, including protozoan malaria, West Nile, dengue and chikungunya viruses. Every year, cases of malaria range between 350 million and 500 million with 1 million to 3 million deaths. The studies showed there this is a complicated link between mosquitoes, their genetics and the climates they live in, however, to control mosquito-borne viruses, you have to control mosquitoes. If the mosquito doesn't bite you, you're not going to get the pathogen.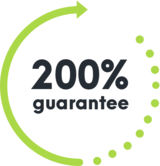 WE'RE NOT HAPPY UNLESS YOU'RE HAPPY
SEE HOW IT WORKS
With Competitive Pest Control Services you'll never have to worry about paying for a job that hasn't been done.

If you're not satisfied with our services, we'll not only give you your money back, we'll return it to you twofold. That's right: you'll not only receive a full refund, we'll also pay to have your pest problem sorted by our competition.*

We're always trying to raise the standard of service, it's one of the reasons we were name Australian Pest Manager of the Year four times in the past six years. When you employ our services, you know your pest problem will soon be a distant memory. What could be more satisfying than that?

*Please contact us to hear more about our 200% Money Back Guarantee - as due to issues sometimes outside our control, not all services may be covered by this offer.
Talk to us about pest control for your home or business