Termite Warning Issue as Gold Coast Infected
---
Termites caused over $750 million in property damage last year and Gold Coast residents have been warned to protect themselves, reported GoldCoast.com.au.
How to keep your home termite free?
Pest controller, Paul Hams, said it can be sad to see the damage termites cause to homes. Often the damage bill can run into thousands of dollars and are the result of just a few small mistakes by the home owner.
Termites are very active in warm weather, Hams explained, so now is the time to take steps to combat them.
Some colonies have up to two million termites. The queen can produce 2,000 eggs per day and live for a quarter of a century.
People make a variety of mistakes that allow termites into the home. Homeowners often don't know they have a termite problem until it's too late, so it's always best to focus on prevention. Follow these tips:
Remove wood and cardboard that is next to the house. The termites use the wood to gain access to the home through small, unnoticeable weep holes.
Fix leaking taps and overflow from unsealed pipes, airconditioning units or hot water systems because termites are drawn to moisture.
Remove old tree stumps.
Regularly have pest inspections, at least once a year.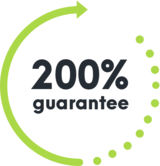 WE'RE NOT HAPPY UNLESS YOU'RE HAPPY
SEE HOW IT WORKS
With Competitive Pest Control Services you'll never have to worry about paying for a job that hasn't been done.

If you're not satisfied with our services, we'll not only give you your money back, we'll return it to you twofold. That's right: you'll not only receive a full refund, we'll also pay to have your pest problem sorted by our competition.*

We're always trying to raise the standard of service, it's one of the reasons we were name Australian Pest Manager of the Year four times in the past six years. When you employ our services, you know your pest problem will soon be a distant memory. What could be more satisfying than that?

*Please contact us to hear more about our 200% Money Back Guarantee - as due to issues sometimes outside our control, not all services may be covered by this offer.
Talk to us about pest control for your home or business