Termites Use Their Own Faeces in Self Defence
---
Scientists have been wondering for years what makes termites so resistant to extermination efforts. Finally, a nine year study has come up with answers – the termite's own faeces offer them protection.
According to Reuters, the droppings used to build their nests cultivate good bacteria that attacks pathogens that would otherwise kill the insect. This is believed to be the main reason why biological controls have been so unsuccessful in controlling them.
Entomology professor at the University of Florida, Nan-Yao Su, said that this was a biological adaptation developed over millions of years.
The findings could end over fifty years of fruitless research and encourage scientists to investigate promising new avenues.
Termites cause $40 billion worth of property damage each year, destroying wooden structures around the world. By the time a house is infested, the colony has usually built a nest 300 feet in diameter that homes several million termites. In one case, termites in Hawaii destroyed a home within nine months after it was built on their nest.
Researchers will now try to find ways to bypass the protective action of termite faeces.
Read More: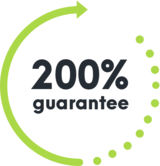 WE'RE NOT HAPPY UNLESS YOU'RE HAPPY
SEE HOW IT WORKS
With Competitive Pest Control Services you'll never have to worry about paying for a job that hasn't been done.

If you're not satisfied with our services, we'll not only give you your money back, we'll return it to you twofold. That's right: you'll not only receive a full refund, we'll also pay to have your pest problem sorted by our competition.*

We're always trying to raise the standard of service, it's one of the reasons we were name Australian Pest Manager of the Year four times in the past six years. When you employ our services, you know your pest problem will soon be a distant memory. What could be more satisfying than that?

*Please contact us to hear more about our 200% Money Back Guarantee - as due to issues sometimes outside our control, not all services may be covered by this offer.
Talk to us about pest control for your home or business