The LAZY Guide to Pest Control
---
Best Guideline to Pest Control
If you're seeing signs of a few rodents it usually means there's already a major problem underway.
Mice mature within 25 days and within four months, a single pair can have 200 offspring. These pests carry up to 40 diseases and are known to bite through wiring and cause house fires.
So if there are any signs of rodents around your home you need to act quickly. Luckily, Metro put together a set of pest control steps that spell out lazy – literally.
L – Look for entry points.
Possible entry points should be identified and sealed up. Mice only need a gap of 1.75cm to enter, so it's important to seal even small holes with a weather resistant sealant.
A – Always keep food sealed away.
Food scraps and open containers lure rodents in so cover bins and leftovers.
Z – Zero in on the warning signs.
Look out for gnaw marks, holes with rough edges that feel slightly greasy and small black droppings.
Y – Yard maintenance is key.
The yard should be kept free of rubbish and shrubs that act as rodent hiding spots. If rodents are identified on the property, a pest controller should be called in.
Read More: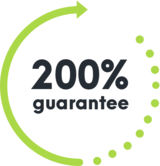 WE'RE NOT HAPPY UNLESS YOU'RE HAPPY
SEE HOW IT WORKS
With Competitive Pest Control Services you'll never have to worry about paying for a job that hasn't been done.

If you're not satisfied with our services, we'll not only give you your money back, we'll return it to you twofold. That's right: you'll not only receive a full refund, we'll also pay to have your pest problem sorted by our competition.*

We're always trying to raise the standard of service, it's one of the reasons we were name Australian Pest Manager of the Year four times in the past six years. When you employ our services, you know your pest problem will soon be a distant memory. What could be more satisfying than that?

*Please contact us to hear more about our 200% Money Back Guarantee - as due to issues sometimes outside our control, not all services may be covered by this offer.
Talk to us about pest control for your home or business