Turkey's president builds new palace because of cockroaches
---
If cockroaches infest someone's house or office, they call in the residential pest control. Recep Tayyip Erdogan has been accused of wasting resources when he was prime minister by building the 1,150-room extravagant palace which has been reportedly illegally built on protected land.
In an interview on television in June, Erdogan said cockroaches had roamed the lavatories in the now-vacated prime ministry. He said: "Does such an office suit the prime minister of the Republic of Turkey? There can be no question of waste where representation is concerned." Reported by Huffington Post.
<!—more–>
The opposition parties has criticized the reported expenditure of $615 million but Erdogan has always defended the building of the palace, saying it is a worthy symbol of the new Turkey he is trying to build. If only he was able to call in Competitive Pest Services!
Read More: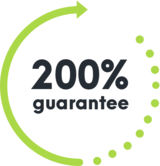 WE'RE NOT HAPPY UNLESS YOU'RE HAPPY
SEE HOW IT WORKS
With Competitive Pest Control Services you'll never have to worry about paying for a job that hasn't been done.

If you're not satisfied with our services, we'll not only give you your money back, we'll return it to you twofold. That's right: you'll not only receive a full refund, we'll also pay to have your pest problem sorted by our competition.*

We're always trying to raise the standard of service, it's one of the reasons we were name Australian Pest Manager of the Year four times in the past six years. When you employ our services, you know your pest problem will soon be a distant memory. What could be more satisfying than that?

*Please contact us to hear more about our 200% Money Back Guarantee - as due to issues sometimes outside our control, not all services may be covered by this offer.
Talk to us about pest control for your home or business