Drone trial in Australia to help fight against Pests
---
Ninox Robotics is the company behind the 3 week trial with the unmanned aerial vehicle (UAV) or drone hoping to deliver a powerful tool to help agricultures billion dollar invasive pest problems. The state of the art UAV has the ability to fly at night enabling the thermal camera to be at it most effective since most of the pest activity menacing rural farms is more prevalent at night.
Marcus Ehrlich, MD of Ninox Robotics, said this morning at a press event, "Australian landholders and managers have been struggling against the problem of invasive pest species for decades, including feral dogs, pigs, deer and rabbits. The issue has caused cumulatively billions of dollars in damages and lost revenue, as well as significant destruction to the country's unique biodiversity."
The trial will be done across farms and national parks in QLD and NSW to test the effectiveness of the normal visual spectrum (RGB) and far infrared (thermal) sight to spot invasive pests control and domestic animals in a variety of terrain types both at night and in the daytime. The information will be streamed in real-time to ground control stations as well as passive screens viewed by landholders enabling the viewers to determine the location, number and type of targeted pests with existing control techniques.
http://www.itwire.com/business-it-news/business-technology/68717-videos-new-anti-pest-agricultural-drone-in-high-tech-aussie-trial
Read More: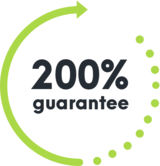 WE'RE NOT HAPPY UNLESS YOU'RE HAPPY
SEE HOW IT WORKS
With Competitive Pest Control Services you'll never have to worry about paying for a job that hasn't been done.

If you're not satisfied with our services, we'll not only give you your money back, we'll return it to you twofold. That's right: you'll not only receive a full refund, we'll also pay to have your pest problem sorted by our competition.*

We're always trying to raise the standard of service, it's one of the reasons we were name Australian Pest Manager of the Year four times in the past six years. When you employ our services, you know your pest problem will soon be a distant memory. What could be more satisfying than that?

*Please contact us to hear more about our 200% Money Back Guarantee - as due to issues sometimes outside our control, not all services may be covered by this offer.
Talk to us about pest control for your home or business