Unexpected pests: Aphids in your garden?
---
Aphids seem to manage to find their way into every garden. They are small, soft-bodied insects that are about a quarter of an inch in size that feed by sucking the nutrient rich liquid out of plants. In large quantities, they can weaken plants and damage them significantly, harming flowers and fruit. Aphids multiply quickly, so it's important to get them under control before reproduction starts. Many generations of them can occur in one season. So as soon as you see them on your prized plants be wary!
How to deal with aphids in your garden
Aphids can leave behind honeydew on plants which is a perfect breeding ground for spores or infections that can kill your flowers or herbs etc. if not dealt with properly. One of the easiest natural ways to get rid of aphids is to use some garden gloves and carefully remove them from plant stems and then place them into soapy water to kill them. Using a hose is also an option to wash the aphids off but in some cases the pressure needed to do this can damage more fragile plants in your garden. Chemical solutions can also be used to deal with aphids but may end up harming beneficial garden insects such as bees etc.
Let us help keep you safe, call us for your pest removal needs today – phone 1300 766 614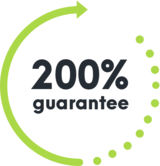 WE'RE NOT HAPPY UNLESS YOU'RE HAPPY
SEE HOW IT WORKS
With Competitive Pest Control Services you'll never have to worry about paying for a job that hasn't been done.

If you're not satisfied with our services, we'll not only give you your money back, we'll return it to you twofold. That's right: you'll not only receive a full refund, we'll also pay to have your pest problem sorted by our competition.*

We're always trying to raise the standard of service, it's one of the reasons we were name Australian Pest Manager of the Year four times in the past six years. When you employ our services, you know your pest problem will soon be a distant memory. What could be more satisfying than that?

*Please contact us to hear more about our 200% Money Back Guarantee - as due to issues sometimes outside our control, not all services may be covered by this offer.
Talk to us about pest control for your home or business