Unexpected pests: Pigeons in cities
---
Pigeons have been known to carry diseases such as Chiamdiosis, a virus similar to influenza, and Psittacosis, which is much like pneumonia. It is still unclear how big of a health risk pigeons pose to humans, with many experts believing the chance of infection to be very small. The main gripe most everyone has with pigeons is the mess they make. Pigeon waste can weigh up to four tons and cost millions a year to clear up. Droppings are not only an eye sore but can cause long term damage, pigeon droppings, whilst annoying, pose no real risk to the public and their health. It is dried droppings that are usually the problem as they can often spread infection. Spores from the droppings can be inhaled as dust and carried on the wind. It can cause a flu like illness in healthy people but can be more of a serious problem to those with low immunity.
How to get rid of pigeons
Finding pigeon or any bird poop on your garden furniture, patio, balcony, or car can be very annoying and tough to clean. It is likely you will have to turn to a professional pest service if the problem is very persistent. Luckily, lots of hardware stores stock pigeon spikes which you can use to prevent pigeons roosting on ledges around your property.
Let us help keep you safe, call us for your pest removal needs today – phone 1300 766 614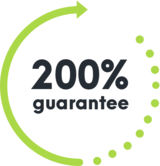 WE'RE NOT HAPPY UNLESS YOU'RE HAPPY
SEE HOW IT WORKS
With Competitive Pest Control Services you'll never have to worry about paying for a job that hasn't been done.

If you're not satisfied with our services, we'll not only give you your money back, we'll return it to you twofold. That's right: you'll not only receive a full refund, we'll also pay to have your pest problem sorted by our competition.*

We're always trying to raise the standard of service, it's one of the reasons we were name Australian Pest Manager of the Year four times in the past six years. When you employ our services, you know your pest problem will soon be a distant memory. What could be more satisfying than that?

*Please contact us to hear more about our 200% Money Back Guarantee - as due to issues sometimes outside our control, not all services may be covered by this offer.
Talk to us about pest control for your home or business