It Happened at Lakewood Manor (1977)
---
Ants are a pain on in the backside on any property but especially in the location of Lakewood manor. During construction at the old, hard-pressed Lakewood Hotel, two workers stumble upon a swarm of ants in a closed section of the building. What makes these ants such an issue is the fact they are highly poisonous. At first this may sound laughable, but some ants are highly venomous such as the Florida Harvest Ant. It is however important to add that it is unlikely that you will ever be swarmed by poisonous ants.
Is there any validity to the way ants are portrayed in this film?
What sets this movie apart from others that use pests is that this movie uses actual ants as oppose to huge monster looking pests. The ants act much like ants do In real life, they have nests, they have the ability to swarm and because of their size they can get into all sorts of locations. The ants in this movie also are resistant to pesticides which is actually also based around some truth. Many pests such as ants are able to form some level of pesticide resistance. The movie also at a point mentions that army ants are able to build bridges to cross rivers which is In fact very much true!
Let us help keep you safe, call us for your pest removal needs today – phone 1300 766 614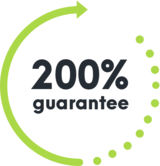 WE'RE NOT HAPPY UNLESS YOU'RE HAPPY
SEE HOW IT WORKS
With Competitive Pest Control Services you'll never have to worry about paying for a job that hasn't been done.

If you're not satisfied with our services, we'll not only give you your money back, we'll return it to you twofold. That's right: you'll not only receive a full refund, we'll also pay to have your pest problem sorted by our competition.*

We're always trying to raise the standard of service, it's one of the reasons we were name Australian Pest Manager of the Year four times in the past six years. When you employ our services, you know your pest problem will soon be a distant memory. What could be more satisfying than that?

*Please contact us to hear more about our 200% Money Back Guarantee - as due to issues sometimes outside our control, not all services may be covered by this offer.
Talk to us about pest control for your home or business