What is a Rat King?
---
Not sure really where to start with this article, but buckle in. A rat king is a collection of rats whose tails are intertwined and bound together this can be due to a few possible reasons, such as entangling material like hair or sticky substances like sap or gum or just getting tied together. The earliest report of rat kings comes from 1564, sightings of the phenomenon in modern times, especially where the specimens are alive, are very rare the last recorded one being 2005.
This has to be a hoax?
The existence of this phenomenon is debated due to the limited evidence of it occurring naturally. Another concern is the possibility that some of the centuries old preserved museum specimens could be fabricated, such hoaxes being common in the medieval era. In popular culture this subject has been discussed and shown in video games, tv and even novels. Author Terry Pratchett's theory is "down the ages, some cruel and inventive people have had altogether too much time on their hands". Either real or fake rat kings have caused much curiosity for many years and I'm sure years to come! There have even been reported 'squirrel kings' as recent as 2018! So this is an ongoing mystery by all accounts.
Let us help keep you safe, call us for your pest removal needs today – phone 1300 766 614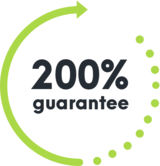 WE'RE NOT HAPPY UNLESS YOU'RE HAPPY
SEE HOW IT WORKS
With Competitive Pest Control Services you'll never have to worry about paying for a job that hasn't been done.

If you're not satisfied with our services, we'll not only give you your money back, we'll return it to you twofold. That's right: you'll not only receive a full refund, we'll also pay to have your pest problem sorted by our competition.*

We're always trying to raise the standard of service, it's one of the reasons we were name Australian Pest Manager of the Year four times in the past six years. When you employ our services, you know your pest problem will soon be a distant memory. What could be more satisfying than that?

*Please contact us to hear more about our 200% Money Back Guarantee - as due to issues sometimes outside our control, not all services may be covered by this offer.
Talk to us about pest control for your home or business