Unexpected pests: Coyotes in America
---
Around half a million coyotes are killed each year in the U.S, many shot to death from small planes, helicopters and hunters. Yet the coyote has survived all attempts to eradicate it, spreading from its primary territory in the west of the rockies to the east coast, where it has now found a safer refuge in cities such as New York. So why are coyotes considered pests? Well coyotes can harass dogs and may prey on small dogs and cats as well as chickens. Attacks on larger dogs are usually associated with the mating or breeding season, when coyotes are most territorial.
How can Coyotes be prevented?
The number one step when deterring any wild animals is to keep your garden or land clean. Remove all food and water sources so the coyotes are not drawn to your property. Your garbage cans should have a lid, and you should be sure to take all pet food indoors, especially at dusk. This includes your pets, livestock animals, or even wild rabbits or rodents that may hang out in your yard. Fencing is the best way to keep your pets in, and coyotes out. Coyotes can jump high, and will dig as well, so fencing should be at least 6 feet tall, and buried a few inches into the ground.
Let us help keep you safe, call us for your pest removal needs today – phone 1300 766 614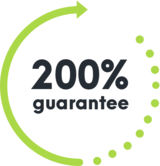 WE'RE NOT HAPPY UNLESS YOU'RE HAPPY
SEE HOW IT WORKS
With Competitive Pest Control Services you'll never have to worry about paying for a job that hasn't been done.

If you're not satisfied with our services, we'll not only give you your money back, we'll return it to you twofold. That's right: you'll not only receive a full refund, we'll also pay to have your pest problem sorted by our competition.*

We're always trying to raise the standard of service, it's one of the reasons we were name Australian Pest Manager of the Year four times in the past six years. When you employ our services, you know your pest problem will soon be a distant memory. What could be more satisfying than that?

*Please contact us to hear more about our 200% Money Back Guarantee - as due to issues sometimes outside our control, not all services may be covered by this offer.
Talk to us about pest control for your home or business