The story of the pied piper
---
The tale of this popular story is centuries old and still to this day is told and adapted in modern media and it is all based around the horrible pests we know as rats. In 1284, while the town of Hamelin was suffering from a large rat infestation, a piper dressed in multi coloured ("pied") clothing appeared offering his services, claiming to be a rat catcher. A deal was made, and the piper played his pipe to lure the rats into the Weser River, where they all drowned. When the piper returned the citizens refused to pay for the service as previously promised. The piper then retaliates by using his instrument's magical power on their children, leading them away as he had the rats, never to return or be seen again. Spooky!
Can rats be attracted by music?
Through my research unfortunately I have found no link to rats being led from one place to another via music, especially to their demise. However, I did find out that studies have shown that rats can learn to love music at a certain age, some rats enjoy jazz, for instance. But without that training, they will ignore it at best. The same study has shown, however, that music can decrease their anxiety and boost their intelligence in certain cases.
Let us help keep you safe, call us for your pest removal needs today – phone 1300 766 614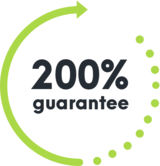 WE'RE NOT HAPPY UNLESS YOU'RE HAPPY
SEE HOW IT WORKS
With Competitive Pest Control Services you'll never have to worry about paying for a job that hasn't been done.

If you're not satisfied with our services, we'll not only give you your money back, we'll return it to you twofold. That's right: you'll not only receive a full refund, we'll also pay to have your pest problem sorted by our competition.*

We're always trying to raise the standard of service, it's one of the reasons we were name Australian Pest Manager of the Year four times in the past six years. When you employ our services, you know your pest problem will soon be a distant memory. What could be more satisfying than that?

*Please contact us to hear more about our 200% Money Back Guarantee - as due to issues sometimes outside our control, not all services may be covered by this offer.
Talk to us about pest control for your home or business