What is a wood worm?
---
Woodworm' is the name given to the larvae stage of wood boring insects. These insects lay eggs in small cracks on the top of the timber and other bits of wood. Woodworms are a common issue in many buildings that can often result in timber framework needing to be replaced as a result of the infestation. This is one of the most common causes of timber damage which can have a long lasting effect on the framework of a building if woodworm is left untreated. Some forms of wood boring insects are more devastating to wood than others, so it is always best to consult a pest control professional to identify the issue and recommend the best course of action for your home or business.
How do I identify a wood worm?
Depending on the type of wood and the species of wood boring insect, the notable signs of a woodworm infestation can differ. However, all types of wood boring insect larvae leave a collection of tiny holes in the wood when the adults finally mature and fly away, which is the most obvious indication. You might also notice flour like or pellet shaped wood shavings in and around the holes and underneath affected furniture or beams this is the waste produced by the larvae. If you suspect your property may be under invasion from wood worms do not hesitate to contact pest control professionals.
Let us help keep you safe, call us for your pest removal needs today – phone 1300 766 614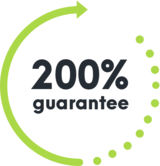 WE'RE NOT HAPPY UNLESS YOU'RE HAPPY
SEE HOW IT WORKS
With Competitive Pest Control Services you'll never have to worry about paying for a job that hasn't been done.

If you're not satisfied with our services, we'll not only give you your money back, we'll return it to you twofold. That's right: you'll not only receive a full refund, we'll also pay to have your pest problem sorted by our competition.*

We're always trying to raise the standard of service, it's one of the reasons we were name Australian Pest Manager of the Year four times in the past six years. When you employ our services, you know your pest problem will soon be a distant memory. What could be more satisfying than that?

*Please contact us to hear more about our 200% Money Back Guarantee - as due to issues sometimes outside our control, not all services may be covered by this offer.
Talk to us about pest control for your home or business