What chemicals are best for pest control?
---
There are many pest control chemicals from over the counter solutions to specialist sprays, therefore choosing the right chemicals can pose a challenge. Using the wrong substances could make a tricky situation much worse. If you misidentify a species, there is a chance your chemicals just will not work or perhaps the pest will grow a resistance to said chemical, so what chemicals are best to use? One of the most regularly used chemicals in pest control is boric acid. This substance can be taken from both rocks and water sources. It can come in multiple forms, such as powder and pellets. Pest control companies use it, as do many homeowners, It is generally a very affordable chemical.
Points to remember
Pest control is a chemical intensive business. So, make sure that you understand how to use pesticides competently, it is vital you do your research. The wrong chemicals or incorrect application could cause health problems or exacerbate existing health problems. Remember that pest control chemicals can be expensive, and it can take lots of pesticide to do just one treatment. This is why it is advised that if you have a pest issue that is hard to manage, you contact pest control professionals to recommend you a chemical or indeed have them take care of the issue for you.
Let us help keep you safe, call us for your pest removal needs today – phone 1300 766 614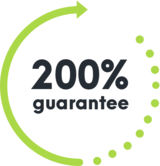 WE'RE NOT HAPPY UNLESS YOU'RE HAPPY
SEE HOW IT WORKS
With Competitive Pest Control Services you'll never have to worry about paying for a job that hasn't been done.

If you're not satisfied with our services, we'll not only give you your money back, we'll return it to you twofold. That's right: you'll not only receive a full refund, we'll also pay to have your pest problem sorted by our competition.*

We're always trying to raise the standard of service, it's one of the reasons we were name Australian Pest Manager of the Year four times in the past six years. When you employ our services, you know your pest problem will soon be a distant memory. What could be more satisfying than that?

*Please contact us to hear more about our 200% Money Back Guarantee - as due to issues sometimes outside our control, not all services may be covered by this offer.
Talk to us about pest control for your home or business