5 minutes with Ash
---
What do you do for fun outside of work?
Outside of work I enjoy travelling and visiting new places. Experiencing new cultures and food. 
What is your dream holiday?

My dream holiday would be the Maldives. It looks like such a beautiful place and I love how picturesque and peaceful it looks.
What is your biggest fear?
SNAKES! I am petrified of them.
What is your favourite meal?
Wagyu steak – medium rare with mashed potato and creamy spinach. Washed down with a glass of shiraz. WOW
What is one thing you can't live without?
COFFEE AND SUNRISE. Two of my favourite things I can't live with, watching the sunrise with a long black coffee is unbeatable. Pls the coffee is much better over here than the UK.
Thankyou Ash for taking the time to talk to us and sharing some information about yourself!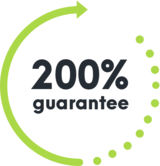 WE'RE NOT HAPPY UNLESS YOU'RE HAPPY
SEE HOW IT WORKS
With Competitive Pest Control Services you'll never have to worry about paying for a job that hasn't been done.

If you're not satisfied with our services, we'll not only give you your money back, we'll return it to you twofold. That's right: you'll not only receive a full refund, we'll also pay to have your pest problem sorted by our competition.*

We're always trying to raise the standard of service, it's one of the reasons we were name Australian Pest Manager of the Year four times in the past six years. When you employ our services, you know your pest problem will soon be a distant memory. What could be more satisfying than that?

*Please contact us to hear more about our 200% Money Back Guarantee - as due to issues sometimes outside our control, not all services may be covered by this offer.
Talk to us about pest control for your home or business