Does your property need deep cleaning?
---
What exactly is deep cleaning you may be thinking? Deep cleaning is the process of totally eradicating any harmful bacteria that may have built up in a property. During the time of covid-19 this is a more essential industry then ever. Special teams wearing protective equipment use fogging machines that use an antimicrobial spray. Many business' have begun using this service regularly so that they can continue to operate safely for both customers and employees.
What is the difference between deep cleaning and regular cleaning?
The simplest way to describe regular cleaning is a set of cleaning tasks that are performed on a regular basis. This is sometimes also referred to as domestic cleaning. Regular cleaning is what most people do on a daily or weekly basis. Deep cleaning is normally carried out every 6 months to a year. Regular cleaning maintains a good level of cleanliness around the house or business. Regular cleaning tasks often cover things like: Cleaning the bathroom, wiping down work surfaces and dusting.
This differs from deep cleaning as deep cleaning allows deep set grime and dirt to be removed effortlessly, with regular cleaning many areas may be inaccessible to clean with ordinary equipment. But when deep cleaning professionals are hired, they can use equipment that cleans all sorts of surfaces such as blinds ventilation shafts and more which would be extremely difficult to do without fogging machines.
How often should personal domestic cleaning occur?
The answer to this question depends largely on what needs to be targeted so I will share with you some of our suggestions for personal cleaning around your property.
Kitchen
• Microwave: every week. Food splatters and left over moisture can become a breeding ground for germs.
• Refrigerator: every month. Food spills, leaky meat wrappers and rotting vegetables can lead to serious bacterial contamination.
Bathroom
• Bathtubs and showers: every week. Offering a warm and moist environment, bathtubs and showers are the perfect breeding ground for bacteria and fungus that cause skin infections.
• Toilet: every week. Most households can manage by wiping over the cistern, buttons and toilet seat with an antibacterial agent; deep clean the toilet weekly with a cleaner and toilet brush to remove stains
Bedrooms
• Pillows: every 3 months. You spend about a third of your life in bed, so it seems appropriate to regularly cleanse your pillows from trapped dead skin, oil, sweat, allergens, dust mites and their eggs.
• Mattresses: every six months. Like pillows, the mattress can soak up and trap body fluids, dead skin, allergens, dust mites and even bed bugs in its fibres.
Regular deep cleaning is needed.
One thing to remember is of course that after the treatment is done, it does not offer long lasting protection, if somebody was to cough on a treated surface a couple hours after fogging or deep cleaning, the virus is still going to survive. Instead it is important to have a fairly regular cleaning routine to reduce the likelihood of any viruses sticking around.
How much does deep cleaning cost?
With all the extra infection control now needed because of the pandemic, including protective gear, and specialist machines many deep cleaning prices must go up across the industry. Some companies will charge an hourly rate to send out a team. While other companies might quote an upfront amount for larger jobs such as a malls or train stations that will likely take longer. It is important that if you are considering deep cleaning you get lots of quotes and find the business that'll work best for you.
Protect your property with CPS today and ask about our deep cleaning services – phone 1300 766 614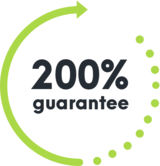 WE'RE NOT HAPPY UNLESS YOU'RE HAPPY
SEE HOW IT WORKS
With Competitive Pest Control Services you'll never have to worry about paying for a job that hasn't been done.

If you're not satisfied with our services, we'll not only give you your money back, we'll return it to you twofold. That's right: you'll not only receive a full refund, we'll also pay to have your pest problem sorted by our competition.*

We're always trying to raise the standard of service, it's one of the reasons we were name Australian Pest Manager of the Year four times in the past six years. When you employ our services, you know your pest problem will soon be a distant memory. What could be more satisfying than that?

*Please contact us to hear more about our 200% Money Back Guarantee - as due to issues sometimes outside our control, not all services may be covered by this offer.
Talk to us about pest control for your home or business