Does your property need deep cleaning?
---
Deep cleaning a property does far more than just make the place look stunning. It also gets rid of bacteria and germs to improve hygiene and air quality inside the home. Now more than ever, cleanliness is the top of the agenda for people in all aspects of their lives. Even the tidiest homes can use a good deep cleaning from time to time. When the flu or other illnesses spread through the community, you may find yourself thinking it's time to focus on cleaning your home or apartment just a little more than you usually do. A deep clean is both healthy and rewarding because you can look back on your efforts and see all of the benefits.
Here we look at some of the ways in which deep cleaning services can help you make the most of your rental property.
What is the difference between deep cleaning and a regular cleaning?
Regular cleaning is a set of cleaning tasks that are performed on a regular basis. This is sometimes also referred to as domestic cleaning. Regular cleaning is what most people do on a daily or weekly basis. Deep cleaning is normally carried out every 6 months to a year. Regular cleaning maintains a good level of cleanliness around the house or business. Regular cleaning tasks often cover things like: Cleaning the bathroom, wiping down work surfaces, and dusting.
This differs from deep cleaning as deep cleaning allows deep-set grime and dirt to be removed effortlessly, with regular cleaning many areas may be inaccessible to clean with ordinary equipment. But when deep cleaning professionals are hired, they can use equipment that cleans all sorts of surfaces such as blinds ventilation shafts, and more which would be extremely difficult to do without fogging machines.
Parts You Should Deep Clean Daily
The parts of your house that need daily cleaning are spaces where you prepare food and spend time each day. The kitchen's food prep area is an excellent example. It's a daily must-clean if you're preparing and cooking your food here.
Wipe and sanitize dining room tables and kitchen countertops. Keep clutter from the room to keep it tidy. Crumbs and dirt on kitchen floors can attract cockroaches and other pests. Sweep them daily to prevent this.
Another place you should keep clean every day is your bedroom. If making your bed in the morning isn't a habit of yours yet, this is the time to adopt it. Keep your bed and bedroom as clutter-free and clean as possible.
The bathroom is another place in the home that you visit every day. Keep it clean by brushing the toilet in the morning or evening after you use it. Take a soft sponge or squeegee for wiping down shower walls to keep scum from building up.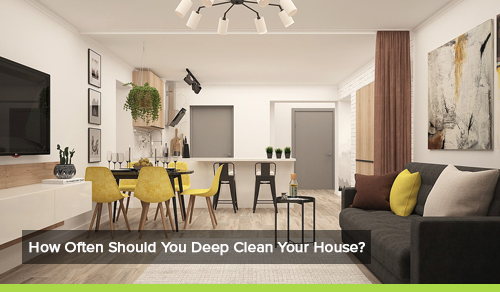 How Often Should You Deep Clean Your House?
The short answer to this is: it depends. Which part of the house are we talking about? Remember that some parts of the house are okay to clean once a year, while other parts need daily cleaning.
Spring is one of the most popular times to do a deep cleaning of the whole house. However, cleaning your house once a year isn't enough if you want to keep it fresh. As we mentioned, certain parts of the home need more frequent cleaning.
If you're going to gauge which parts need more recurrent cleaning, you need to look at their uses first. Do you prepare food, eat, or sleep in certain parts of the house? If you use a specific part of the house every day, you should keep it clean more often.
Parts in the Home You Should Clean Every Week
On your days off of work, set aside some time to do your weekly cleaning. The deep cleaning tasks that you need to do each week include:
Dusting furniture
Sanitizing sponges
Wiping down kitchen appliances
Mopping kitchen and bathroom floors
Vacuuming the floor and carpets
Cleaning the living room furniture and mirrors
Scrubbing and disinfecting the bathtub
Washing your towels (after three uses)
Remember that the bed is where you spend a big chunk of your time at home. If you often sleep naked or go to bed without showering first, you'd want to change your linens every 1-2 weeks. Do it more often if you have allergies or certain sensitivities.
It's also good to wipe down areas that you or other people often touch. Sanitize doorknobs and railings every week. Sweep and mop high-traffic areas like the stairs or entrances to the home.
Your fridge and floors also need cleaning every few weeks. The same goes for any plants that you have in and around the house. Wipe plant pots and wipe down leaves with a damp rag to remove dust or soil.
Other Parts You Need to Deep Clean Every Month
The best time to clean your house vents and woodwork is every month. Use a vacuum to remove all the debris, dust, and dirt they collected. Dust the blinds and wipe light fixtures with a wet rag.
In the kitchen, drain your dishwasher. Wipe down the outside of your refrigerator and other kitchen appliances. Clean your laundry machines and vacuum, as well.
Deep Cleaning Needs: Every Few Months or Quarterly
Exposure to dust mites at home can lead to serious health impacts. Dust mites are dangerous to the health of people with asthma, allergies, or sensitivity to them. These microscopic mites like to live in mattresses and beddings.
Every few months, pay attention to your mattress pads and mattresses. Sprinkle baking soda onto your mattress, then vacuum it, then spray it with a disinfectant. The baking soda will absorb odors that stick to your mattresses.
You'd also want to clean you:
Pillowcases
Oven
Freezer
Rangehood
Cupboards and cabinets for dishes often used
Are you curious about when to clean your house's outdoor area? This is the time to do it. Clean and wipe down the surfaces on your patio and your outdoor furniture during this time.
Parts in the Home That Need Yearly Deep Cleaning
Here is the last answer to the question of how often should you deep clean your house. These are the tasks you do on spring cleaning. That includes cleaning the:
Windows
Fireplace and chimney
Gutters
Drapes and curtains
Dryer and vents
Carpet and upholstery
These parts are some of the most challenging to clean. Dedicate a whole day to doing these deep cleaning tasks.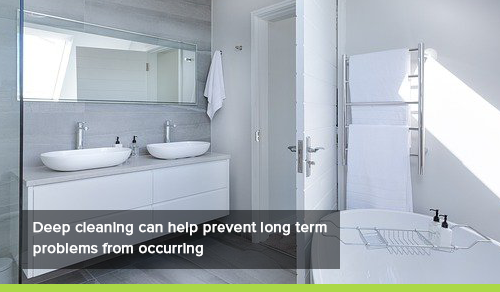 Deep cleaning can help prevent long term problems from occurring
Simply wiping down surfaces with the anti-bacterial spray will only go part way to getting rid of nasty bugs and germs. Invariably people don't get into the corners and under appliances, so built-up dirt, bacteria, and viruses are still present. This can attract further germs and lead to the growth of mold and damp which can spread and cause structural problems some of which can be very expensive!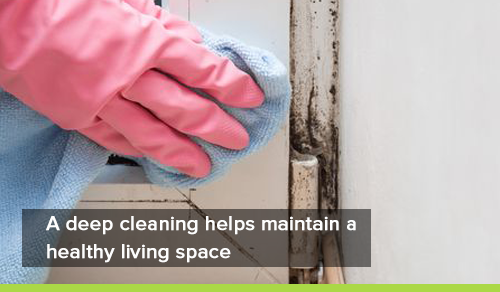 A deep cleaning helps maintain a healthy living space
Mold, dampness, and poor air quality can lead to health issues. Tenants who claim ill-health as a result of issues relating to the home can be costly for you. Deep cleaning can help prevent mold and damp issues, but they can still occur.
GRAB YOUR SUPPLIES
Most cleaning jobs around the home can be completed with a few key items: a vacuum, a mop, microfiber or cotton terry-cloth rags (or paper towels, but they create more waste), and an all-purpose cleaner.
It's possible to make your own all-purpose cleaner; just add half a cup of white vinegar, one pint of rubbing alcohol, one teaspoon of dish soap, and enough water to make a gallon. Then pour the mixture into an empty spray bottle. If you don't have rubbing alcohol, try mixing equal parts white vinegar and water, and adding a couple of drops of dish soap.
For bathrooms and kitchens, some specialty supplies, like tub-and-tile and toilet-bowl cleaners, will be required. Surfaces like natural stone, stainless steel, and wood may also benefit from cleaners created specifically for them.
Next, you'll need to grab some necessary cleaning supplies. Make sure you have plenty of these things on hand:
Rags or towels you can toss when you're done
Two buckets
Dish soap or another degreasing cleaner
Disinfectant spray
Rubber gloves
Scrubbing pads
Vinegar
Old toothbrush or scrub brush
Consider placing these items, except for the buckets, in a caddy. Fill one bucket with clean, soapy water, and another with fresh water for rinsing, and you're ready to get to work. Start the process room by room and tackle these tasks.
DUST AND VACUUM
The first step when you enter a new room for cleaning is to dust and vacuum. Work from the top of the room to the bottom, starting with ceilings and light fixtures and working your way down to the floor. This allows the vacuum to pick up any dust or debris you knock off when dusting. Make sure you dust above shelves and cabinets and on top of your ceiling fans. Vacuum all vents, including exhaust fan vents in bathrooms.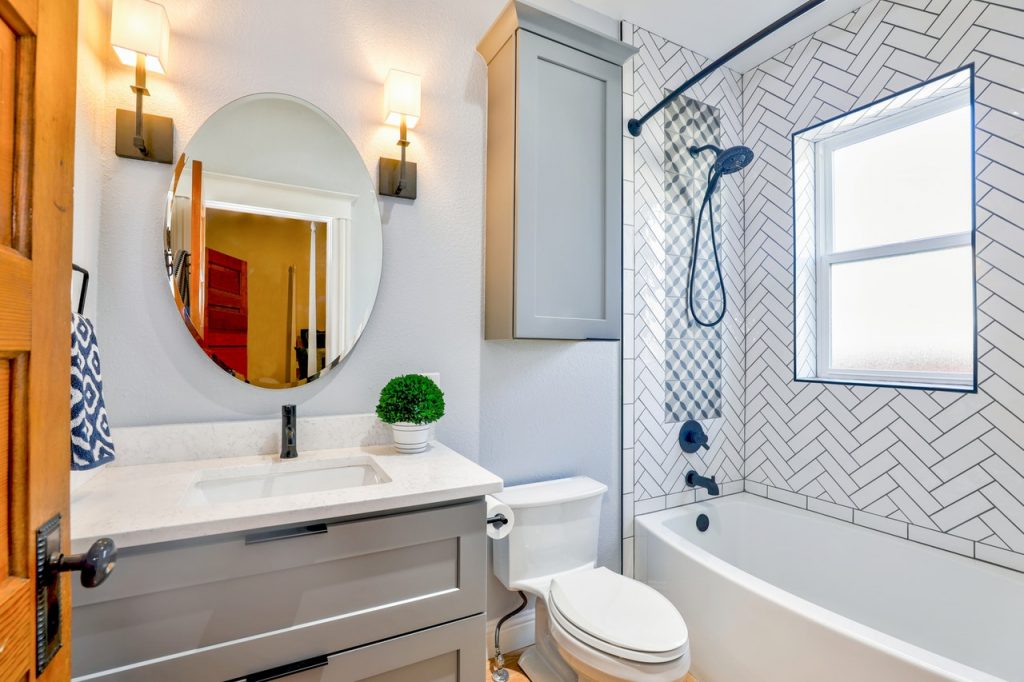 CLEAN THE FAUCETS AND SINKS
For rooms with faucets, use vinegar to de-scale them. Consider taking the faucet apart to clean the aerator, if it has one. Then, shine the faucets using glass cleaner.
If the sink has heavy stains, consider bleaching it. Plug the drain and fill it with hot water. Had ¼ cup of bleach to the water, and let it sit for an hour. This will remove many of the stains from the sink. Rinse thoroughly before using any other cleaners, as bleach can interact dangerously with ammonia-based cleaners.
CLEAN THE WINDOWS AND DOORS
Vacuum the windowsills and tracks. Wash the window screens to remove bugs and dust. Then, use a glass cleaner to clean the windows, inside and out.
Next, move to the doors. Use a wood cleaner to wipe down the doors and frames. You'll be surprised just how soiled they are! Then, use disinfectant to clean all of the doorknobs. Don't neglect cabinet and drawer doors, either. Open the cabinets and wipe out all of the shelves, putting things back in an organized manner.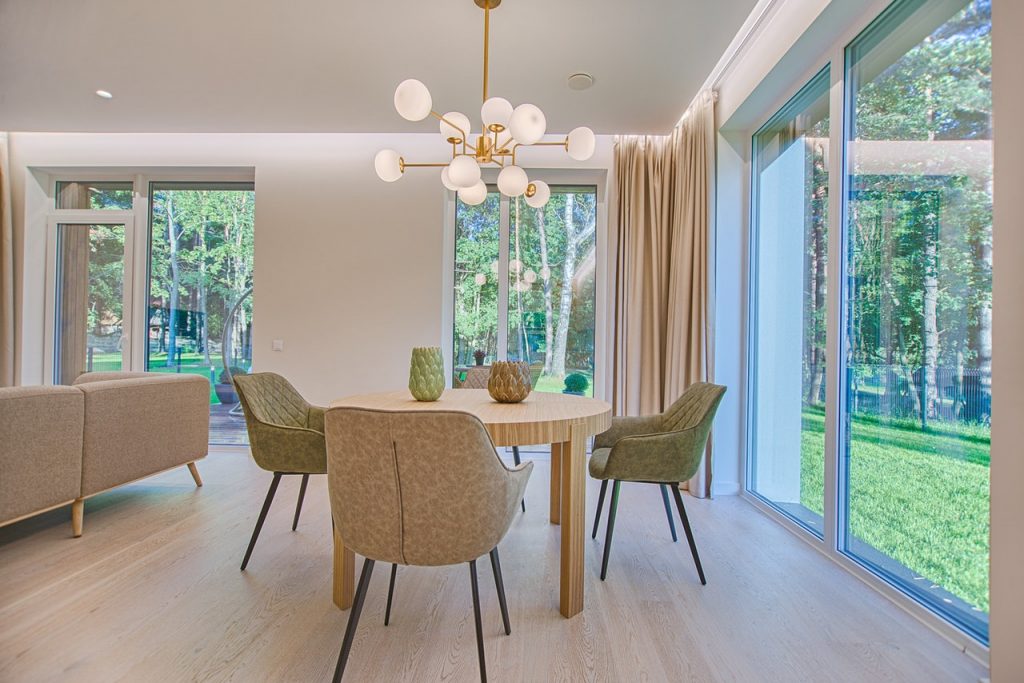 ADDITIONAL STEPS IN EACH ROOM
In each room, find the garbage can. These can harbor quite a bit of grit and germs, so wash and sanitize it. Don't neglect the recycling bins.
If the room has curtains or blinds, clean these. Blinds need a deep cleaning with a vinegar/water mix and a scrub brush or toothbrush. Launder or vacuum the curtains.
For upholstered furniture, remove the cushions and vacuum in the crevices. If you notice any stains, use an upholstery cleaner to tackle them. Then vacuum all of the cushions and put them back. Move the furniture to clean underneath. Vacuum your mattresses to remove built-up dust and allergens.
SPECIAL CONSIDERATIONS IN THE KITCHEN AND BATHROOMS
The kitchen needs some special attention to ensure you have a safe, clean space for preparing and serving food. For the stove, remove the grates and soak them in hot, soapy water. While they soak, wipe the entire surface of the stovetop down. Then, clean the hood fan and hood fan filter. Open the oven and clean it, using cleaner and a scrub brush to dislodge burnt-on food. Clean the door, wash the grates, and put everything back together.
If you have a microwave, use lemon and vinegar to spray it down before wiping out the food mess. Clean underneath and around it if it's not built-in. Clean the keypad and front of the microwave, including the handle.
Next, move to your fridge and freezer. Remove all expired food, and wash the shelving with warm, soapy water. Clean the rubber gasket around the door as well.
Finally, move to the dishwasher. Add a cup of vinegar and ½ cup of baking soda, and run the dishwasher empty to remove the residue that builds up over time.
In the bathroom, make sure you clean the grout thoroughly. If you have a shower curtain, wash it, or replace it. Finally, clean the entire toilet, including the handle and base, and clean the toothbrush holder.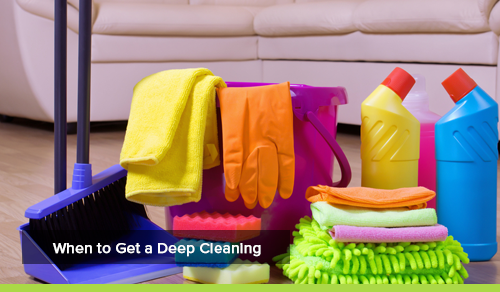 When to Get a Deep Cleaning
You don't always need a deep cleaning. It's typically an occasional service you get for a specific purpose.
You might schedule a deep clean when you move into a new home. This gives you a fresh start in your new home without worrying about the dirt and grime from the previous owners.
It's also something you can do in your old home when you move out. That gives the new owners a clean start.
Some people start with a deep clean when they start using a service. You start out with your home being clean throughout. Then, when you start with regular cleanings, the cleaning service can maintain that level of cleanliness they create during the deep cleaning.
You might schedule a deep cleaning before a big party or event you plan to host at your home. If anyone looks closely at your baseboards or appliances, they won't find any grease or gunk.
This service is also a good idea in the spring when you're already spring cleaning your home. It gives your space an extra-clean feeling as you also declutter and simplify.
Benefits of a Cleaning Service
When you're ready for a deep clean, using a cleaning service can make the job easier.
A professional cleaning service has the deep cleaning routine down. The cleaners know what needs to be cleaned and where the dirt and gunk typically hides. They have the cleaning supplies and tools needed to do the job correctly.
They also know how to clean different parts of your home safely. They know what works on baseboards or tiles, for example.
The cleaners handle heavy lifting, such as moving appliances to clean behind them. This can prevent you from getting injured during cleaning.
Hiring a service saves you time. It goes beyond the regular clean, so it naturally takes a lot longer. A service can get in quickly to do the job, leaving you with more free time.
It means you don't have to do all of the tedious cleaning tasks that no one likes to do, such as scrubbing grout lines for hours or wiping down the individual slats on blinds.
Deep cleaning your home is one of the best ways to protect yourself from illnesses spreading in your community. Please note, these tips will help your home feel clean and disinfected but do not guarantee sterilization from the COVID-19 virus.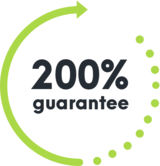 WE'RE NOT HAPPY UNLESS YOU'RE HAPPY
SEE HOW IT WORKS
With Competitive Pest Control Services you'll never have to worry about paying for a job that hasn't been done.

If you're not satisfied with our services, we'll not only give you your money back, we'll return it to you twofold. That's right: you'll not only receive a full refund, we'll also pay to have your pest problem sorted by our competition.*

We're always trying to raise the standard of service, it's one of the reasons we were name Australian Pest Manager of the Year four times in the past six years. When you employ our services, you know your pest problem will soon be a distant memory. What could be more satisfying than that?

*Please contact us to hear more about our 200% Money Back Guarantee - as due to issues sometimes outside our control, not all services may be covered by this offer.
Talk to us about pest control for your home or business