7 Steps to Controlling Cockroaches At Home
---
There is a range of steps homeowners can take to combat pests at home, according to SantanValley.com.
How to get rid of roaches naturally?
While cockroaches can be seen as unsightly or a nusiance, they can attract more dangerous predators such as deadly spiders into the home, so these measures are important to follow.
1. Wipe up food spills on floors and counter tops immediately. Food in the pantry should be sealed tightly and pet food should be kept stored away until mealtime.
2. Clear debris such as leaves and wood piles outside the home so as to not give pests a place to hide.
3. Shrubs and plants should be trimmed so they don't touch the roof or side of the home.
4. Take decaying plants away as they attract cockroaches.
5. Gardens should not be overwatered.
6. Cracks in walls and around the home foundation should be sealed. If they let in light, they can let in pests.
7. Exposed wood should be sealed or painted so that's it's safe from wood-eating pests.
For a guaranteed cockroach pest control in Sydney and friendly pesticides, call CPS today on 1300 395 769.
Read More: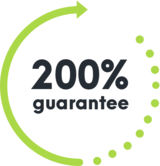 WE'RE NOT HAPPY UNLESS YOU'RE HAPPY
SEE HOW IT WORKS
With Competitive Pest Control Services you'll never have to worry about paying for a job that hasn't been done.

If you're not satisfied with our services, we'll not only give you your money back, we'll return it to you twofold. That's right: you'll not only receive a full refund, we'll also pay to have your pest problem sorted by our competition.*

We're always trying to raise the standard of service, it's one of the reasons we were name Australian Pest Manager of the Year four times in the past six years. When you employ our services, you know your pest problem will soon be a distant memory. What could be more satisfying than that?

*Please contact us to hear more about our 200% Money Back Guarantee - as due to issues sometimes outside our control, not all services may be covered by this offer.
Talk to us about pest control for your home or business