Covid-19 can live on phones and bank notes for four weeks
---
Even more bad news we are afraid, the virus that is responsible for Covid-19 has been found to survive for up to an astonishing four weeks on surfaces including banknotes and mobile phone screens according to researchers.
Australia's national science agency (CSIRO) found the virus was able to survive at 20 degrees Celsius (68 F), or room temperature, and survived for less time at hotter temperatures.
This research was conducted by drying the Covid-19 virus in an artificially made mucus on multiple surfaces, at varying concentrations (much like those reported in samples from those infected) and then re-isolating the virus over the span of a month.
It is important to note that the study was also carried out in the dark, as research has found direct sunlight can quickly weaken the virus.
It also stayed much longer on smooth, non-porous surfaces than on porous materials such as cloth, which was found not to carry any infectious viruses over 14 days.
How can I keep myself safe?
Luckily there is lots of Covid-19 related health tips and routines that have been shared with the public already such as regular hand sanitizing and wearing masks in congested public areas, we would advise that you wipe down your phone screen daily. And abide by government guidelines.
Let us help keep you safe, call us for your deep cleaning needs today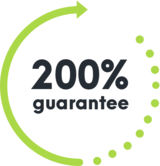 WE'RE NOT HAPPY UNLESS YOU'RE HAPPY
SEE HOW IT WORKS
With Competitive Pest Control Services you'll never have to worry about paying for a job that hasn't been done.

If you're not satisfied with our services, we'll not only give you your money back, we'll return it to you twofold. That's right: you'll not only receive a full refund, we'll also pay to have your pest problem sorted by our competition.*

We're always trying to raise the standard of service, it's one of the reasons we were name Australian Pest Manager of the Year four times in the past six years. When you employ our services, you know your pest problem will soon be a distant memory. What could be more satisfying than that?

*Please contact us to hear more about our 200% Money Back Guarantee - as due to issues sometimes outside our control, not all services may be covered by this offer.
Talk to us about pest control for your home or business