How to prepare for mosquito season
---
We all know that mosquitos are a massive pain in the backside, from the annoying noise they make to the itchy red bumps they leave, so how do you effectively prepare yourself for when they come around? Below you will find a few tips on how to prepare.
It is important to remember that any water that stands for more than seven days can become a mosquito breeding site. Stagnant water serves as an ideal breeding ground. So as summer approaches ensure you do not allow stagnant water to build up. Places such as birdbaths, ponds, trash cans lids, and so on are good to check and clear.
Mosquitos don't need a deep pool of stagnant water to breed they can even lay eggs handful of water. Because of this it is important to keep drains and gutters clean. During winter months many gutters become cluttered with fallen leaves and various debris, blocking in rainwater
Call in the pest professionals
Home remedies will have limited effectiveness and the results are often only very temporary therefore call in the big guys to sort these pests out for you mosquito removal professionals can help identify problem areas that you might have overlooked. Regular visits from a professional are the best way to keep mosquitoes at bay on a consistent basis.
Let us help keep your property pest free, call us for your mosquito needs today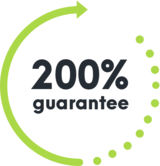 WE'RE NOT HAPPY UNLESS YOU'RE HAPPY
SEE HOW IT WORKS
With Competitive Pest Control Services you'll never have to worry about paying for a job that hasn't been done.

If you're not satisfied with our services, we'll not only give you your money back, we'll return it to you twofold. That's right: you'll not only receive a full refund, we'll also pay to have your pest problem sorted by our competition.*

We're always trying to raise the standard of service, it's one of the reasons we were name Australian Pest Manager of the Year four times in the past six years. When you employ our services, you know your pest problem will soon be a distant memory. What could be more satisfying than that?

*Please contact us to hear more about our 200% Money Back Guarantee - as due to issues sometimes outside our control, not all services may be covered by this offer.
Talk to us about pest control for your home or business