What key things attract pests?
---
Pests and people are not so different in some ways, and thus are attracted to similar things. Easy meals, a cozy place to raise a family and as nearby water source. It is a story we hear all too often, pests find these places inside our homes. Repairs being delayed and overall poor maintenance can quickly become an open invitation for rodents and other pests to enter. Once inside, it only takes a bit of food and water to make them to stay. It is no secret that the food scraps found in trash attract pests and rodents. Avoid infestations by properly sealing up your trash and storing it in closed containers.
How can I stop pests getting into my home?
Houses that are on the older side can start to wear down causing cracks and gaps to become more evident in the walls etc. Similarly, the weatherproofing can deteriorate while the paint begins to gradually fade. Bugs and other pests prefer houses with more substantial wear and tear because they can invade the premises easier and set up shop.
If you happen to have uninvited pests lurking in the darker spots of your home, it is for the best that you have a pest control company conduct inspections and treatment. They will check around your property to get rid of these pesky pests. They will also check possible entry points and block off pathways in and out of your property.
Let us help keep you safe, call us for your pest removal needs today – phone 1300 766 614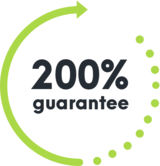 WE'RE NOT HAPPY UNLESS YOU'RE HAPPY
SEE HOW IT WORKS
With Competitive Pest Control Services you'll never have to worry about paying for a job that hasn't been done.

If you're not satisfied with our services, we'll not only give you your money back, we'll return it to you twofold. That's right: you'll not only receive a full refund, we'll also pay to have your pest problem sorted by our competition.*

We're always trying to raise the standard of service, it's one of the reasons we were name Australian Pest Manager of the Year four times in the past six years. When you employ our services, you know your pest problem will soon be a distant memory. What could be more satisfying than that?

*Please contact us to hear more about our 200% Money Back Guarantee - as due to issues sometimes outside our control, not all services may be covered by this offer.
Talk to us about pest control for your home or business