How to deal with wasp nests
---
Wasps can very swiftly ruin your outdoor fun. And because populations peak in the latter part of summer. Therefore, now is the time of year when you must watch your back for pesky wasps.
Wasps often mind their own business, but some of the species, can become incredibly territorial. Sometimes, just being near them may cause them to attack. Even if you are not allergic to a wasp sting, you may be in real danger if they attack in a large swarm. And if you are allergic just one sting may be deadly if not treated. So how can you deal with wasp nests?
Prevention measures are the main key, sealing up tiny cracks like those found around the edges of siding and where energy lines may enter the house, also patching up holes in window screens is essential, as this is a common place where wasp nests can be formed. If, however a wasp nest has already been formed should you deal with it yourself? We recommend you don't.
Should I get professional help?
Removing a wasp nest can be very dangerous. Wasps inside the nest will feel threatened and often become aggressive. This could cause them to sting you and others in the proximity as they guard their nest. Therefore, you should arrange for a professional wasp nest treatment. This highly effective solution will terminate the wasps and keep you safe from the threat of stings.
Let us help keep you safe, call us for your wasp removal needs today – phone 1300 766 614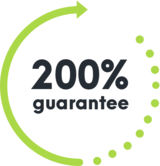 WE'RE NOT HAPPY UNLESS YOU'RE HAPPY
SEE HOW IT WORKS
With Competitive Pest Control Services you'll never have to worry about paying for a job that hasn't been done.

If you're not satisfied with our services, we'll not only give you your money back, we'll return it to you twofold. That's right: you'll not only receive a full refund, we'll also pay to have your pest problem sorted by our competition.*

We're always trying to raise the standard of service, it's one of the reasons we were name Australian Pest Manager of the Year four times in the past six years. When you employ our services, you know your pest problem will soon be a distant memory. What could be more satisfying than that?

*Please contact us to hear more about our 200% Money Back Guarantee - as due to issues sometimes outside our control, not all services may be covered by this offer.
Talk to us about pest control for your home or business