What is pesticide resistance and how does it work?
---
Pesticide resistance is a serious, and increasing, problem. Over 600 species of pests worldwide have developed some sort of pesticide resistance. Pesticide resistance is defined as a change in the sensitivity of a pest population to a pesticide, causing failure in application of the pesticide to control the pest. Resistance can often develop when the same pesticide or chemically alike ones are used in succession repeatedly. It often is thought that pests change or mutate to become resistant as a direct result of this.
Is there any way I can stop this resistance?
It is possible to slow or in some cases reverse resistance. This can occur in some pest populations by allowing time to pass between applications of a certain class of pesticide, allowing already resistant populations to become gradually diluted by the more pesticide susceptible pests. In saying this however, no one can predict if or at what point resistant pests will reverse back to a more pesticide susceptible population. Therefore, the best practice is to reduce the chance of resistance developing in the first place. If you are concerned that certain pests on your property are becoming resistant or perhaps are slowly increasing in numbers, we must suggest contacting a professional, mixing pesticides yourself can be dangerous and can cause harm. Pest control professionals will be able to help fix your issue effectively and quickly.
Let us help keep you safe, call us for your pest removal needs today – phone 1300 766 614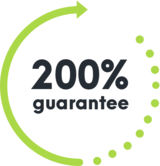 WE'RE NOT HAPPY UNLESS YOU'RE HAPPY
SEE HOW IT WORKS
With Competitive Pest Control Services you'll never have to worry about paying for a job that hasn't been done.

If you're not satisfied with our services, we'll not only give you your money back, we'll return it to you twofold. That's right: you'll not only receive a full refund, we'll also pay to have your pest problem sorted by our competition.*

We're always trying to raise the standard of service, it's one of the reasons we were name Australian Pest Manager of the Year four times in the past six years. When you employ our services, you know your pest problem will soon be a distant memory. What could be more satisfying than that?

*Please contact us to hear more about our 200% Money Back Guarantee - as due to issues sometimes outside our control, not all services may be covered by this offer.
Talk to us about pest control for your home or business