What's the difference between pests and other insects?
---
We often talk about pests and insects but what exactly is the difference between the two? When we talk about insects, we know that they can be beneficial! In some cases, helping in the garden and helping the ecosystem flourish such as beetles! Pests are destructive by nature; they are often scouting for food to survive and to reproduce more of themselves. Pest infestation can be very destructive to crop production and can lead to diseases in humans an example of this would be leptospirosis a nasty blood disease rats give to humans. Insects, on the other hand, can be largely beneficial in agriculture. Insects such as bees play a big role in pollination. In the absence of bees, farmers will have to pollinate themselves and this is time consuming
How should I prevent persistent pests?
There are many pest control solutions out there for pests which just refuse to quit, the ones that you are most likely aware of are over the counter sprays or traps. Whilst these can be effective in the short term when battling pests, they are not ideal for seasonal and persistent pests. If you find yourself in an uphill battle against unwanted guests, we advise you get the help of licensed pest control professionals to help you. They will be able to manage the problem quickly and effectively.
Let us help keep you safe, call us for your pest removal needs today – phone 1300 766 614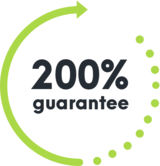 WE'RE NOT HAPPY UNLESS YOU'RE HAPPY
SEE HOW IT WORKS
With Competitive Pest Control Services you'll never have to worry about paying for a job that hasn't been done.

If you're not satisfied with our services, we'll not only give you your money back, we'll return it to you twofold. That's right: you'll not only receive a full refund, we'll also pay to have your pest problem sorted by our competition.*

We're always trying to raise the standard of service, it's one of the reasons we were name Australian Pest Manager of the Year four times in the past six years. When you employ our services, you know your pest problem will soon be a distant memory. What could be more satisfying than that?

*Please contact us to hear more about our 200% Money Back Guarantee - as due to issues sometimes outside our control, not all services may be covered by this offer.
Talk to us about pest control for your home or business