How rice beetles work
---
Rice beetles or rice weevils as they are sometimes called are similar to other pantry pests, rice weevils or rice beetles will invade and feed on whole grains and rice as well as nuts, beans, seeds, corn, and other such foods. These rice beetles bury themselves and live and feed inside the food. The females bite a hole into a grain kernel or a seed and deposits an egg inside, then seals up the opening, leaving the egg behind. When the egg hatches inside the grain or seed, the larvae feed on inside until it is fully grown. Once they are fully grown, the adult rice beetle eats its way out of the grain or seed. Because of the females that are emitting pheromones, male weevils will be waiting outside the hole for her to emerge and will immediately seek to bond with her to reproduce.
How can I identify a rice beetle?
Rice beetles are around a 1/16 of an inch long. The adults are a dull reddish-brown to black colour, with four reddish-yellow spots on its back. The larvae on the other hand are soft white grubs with no legs. The pupae are similar to adults with long snouts, but they are white. How long do they last you may ask? The adult rice weevil can fly, and lives up to five months, with the female laying up to 400 eggs during her lifetime.
Let us help keep you safe, call us for your pest removal needs today – phone 1300 766 614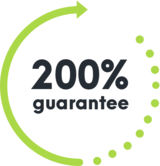 WE'RE NOT HAPPY UNLESS YOU'RE HAPPY
SEE HOW IT WORKS
With Competitive Pest Control Services you'll never have to worry about paying for a job that hasn't been done.

If you're not satisfied with our services, we'll not only give you your money back, we'll return it to you twofold. That's right: you'll not only receive a full refund, we'll also pay to have your pest problem sorted by our competition.*

We're always trying to raise the standard of service, it's one of the reasons we were name Australian Pest Manager of the Year four times in the past six years. When you employ our services, you know your pest problem will soon be a distant memory. What could be more satisfying than that?

*Please contact us to hear more about our 200% Money Back Guarantee - as due to issues sometimes outside our control, not all services may be covered by this offer.
Talk to us about pest control for your home or business