How Frequently Do You Need to Check for Termites in Brisbane
---
When it comes to commercial pest control, Brisbane is a step ahead. Many residents counter termite infestations with regular termite inspections that spot these pests before they do too much harm. Because termite damage can spread swiftly and silently, CPS recommend that you routinely investigate your property for termites, both before and after treatment.
Given that 1 in 3 Australian buildings are thought to harbour termites, frequent assessments are an essential tool for termite control services. Ideally, you should have a professional inspection every year. If you live in a wooden house, or if your neighbours have had infestations, you could call the inspectors more frequently.
Termites can clear a foot of wood in as little as six months, so if your neighbourhood is prone to termite attacks, have your home checked two to four times a year before the damage gets bad. On average though, annual inspections are fine unless you've identified overt signs of infestation.
How to do an amateur termite inspection?
As a homeowner, you don't have to wait for pest control to have a look. Before and after summer, you probably check your house for leaks and water damage. This is an excellent time to look for signs of termites. They like dark, damp conditions, so the excess moisture of our tropical weather will often lead them indoors and in-walls.
Focus on the wooden sections of your home, looking for bubbled portions in the paint. This indicates unwanted moisture, which is like a bat signal for termites. You can also look for rotting sections and stained walls or floors. Wherever there's a leak. There might be pests. Tap the wooden sections of your home, listening for hollow spots.
You should also check for holes in the wall, though if you can see them, then the damage is already pretty severe. Another tell-tale sign is mud tunnelling along cracks in the floors and walls. Termites using these narrow shelters as safe, dark transit tubes. They will usually be made from bright red soil, though they sometimes use black clay as well.
Inspect, Protect, and Treat
You might notice mounds of soil around your wood, or horizontal tunnels that reproductive termites will fly through when they're ready to mate and take over the world – or at least, your house. Termite frass (waste) and discarded wings can pile up at the entrance of termite mud tunnels. Strong chemicals can extract and exterminate these pests.
You need to choose your chemicals carefully. They should be green and safe enough not to harm your pets or contaminate your food. Trapping methods include bait, moisture-control, soil barriers, and consistent monitoring. At CPS we will schedule regular follow-up visits for 360-degree pest control.
During these consequent consultations, we will advise you on preventative methods that will keep the termite infestation from recurring. At CPS, our pest control technicians receive monthly training on the latest in pest control including termites and other pests, so you know you're in good hands.
To book your termite inspection in Brisbane, call Competitive Pest Control Services today on 1300 395 769.
Read Our Other Posts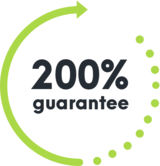 WE'RE NOT HAPPY UNLESS YOU'RE HAPPY
SEE HOW IT WORKS
With Competitive Pest Control Services you'll never have to worry about paying for a job that hasn't been done.

If you're not satisfied with our services, we'll not only give you your money back, we'll return it to you twofold. That's right: you'll not only receive a full refund, we'll also pay to have your pest problem sorted by our competition.*

We're always trying to raise the standard of service, it's one of the reasons we were name Australian Pest Manager of the Year four times in the past six years. When you employ our services, you know your pest problem will soon be a distant memory. What could be more satisfying than that?

*Please contact us to hear more about our 200% Money Back Guarantee - as due to issues sometimes outside our control, not all services may be covered by this offer.
Talk to us about pest control for your home or business