Giant African land snails: Pet or Pest?
---
Originally from East Africa, the Giant African snail is now damaging plants in many countries throughout the world. Some of its spread has been deliberate as people have taken these snails as a novelty pets into their homes. In the correct climate, snails that escape can become widespread. Since exotic snails are likely to escape and spread. This causes problems for all kinds of plants and the eco system in Australia, therefore exotic snails from overseas including giant African snails are prohibited. They have been identified as National Priority Plant Pests, with the giant African snail at the top of the list.  Due to its voracious nature. More than 500 plant species would be targeted by the giant African snail, including most vegetables, flowers, banana, citrus, and the natural environment.
What should I look out for?
Giant African snails are around six to seven times bigger than your common garden snail. They have a
distinctive conical shell usually twice as long as it is wide. They have a long, narrow, cone-shaped shell that is usually 5 to 10 cm long, but can reach up to 20 cm. They can vary in colour but are mainly light brown with striped brown and magnolia bands on it. They lay yellow eggs about 5 mm across, in batches of 200-500.
Let us help keep you safe, call us for your pest removal needs today – phone 1300 766 614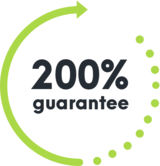 WE'RE NOT HAPPY UNLESS YOU'RE HAPPY
SEE HOW IT WORKS
With Competitive Pest Control Services you'll never have to worry about paying for a job that hasn't been done.

If you're not satisfied with our services, we'll not only give you your money back, we'll return it to you twofold. That's right: you'll not only receive a full refund, we'll also pay to have your pest problem sorted by our competition.*

We're always trying to raise the standard of service, it's one of the reasons we were name Australian Pest Manager of the Year four times in the past six years. When you employ our services, you know your pest problem will soon be a distant memory. What could be more satisfying than that?

*Please contact us to hear more about our 200% Money Back Guarantee - as due to issues sometimes outside our control, not all services may be covered by this offer.
Talk to us about pest control for your home or business