How do pesticides affect the environment?
---
You may find yourself curious when scanning the label of a pesticide, looking at the scary sounding ingredients and you may wonder what effect they have on more then just pests. Your curiosity would be well founded as pesticides can indeed affect the environment in which they are sprayed. Pesticides unfortunately can contaminate soil, water, and vegetation just to name a few. In addition to killing pests or weeds, pesticides can be toxic to a whole host of other beneficial organisms such as birds, fish, bees, and more. Insecticides are generally the most acutely toxic class of pesticides, but herbicides can also pose risks to non target organisms.
How do I find the right pesticide for me?
Research, research, research, it is integral that you find out what chemicals may damage your lovely garden or which may even put you in danger if it absorbs into groundwater.mIf you really want to ensure you are using the right kind of pesticide or the best pest control methods in your garden, you need to get the correct advice from a professional. Some solutions may not work for your situation as for every need there is a different solution. This is just one of a variety of reasons for getting advice from a professional pest control company. Such professionals will inspect your garden and recommend the best pest control methods that are not harmful to plants and your health as well.
Let us help keep you safe, call us for your pest removal needs today – phone 1300 766 614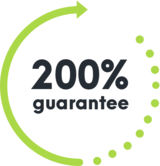 WE'RE NOT HAPPY UNLESS YOU'RE HAPPY
SEE HOW IT WORKS
With Competitive Pest Control Services you'll never have to worry about paying for a job that hasn't been done.

If you're not satisfied with our services, we'll not only give you your money back, we'll return it to you twofold. That's right: you'll not only receive a full refund, we'll also pay to have your pest problem sorted by our competition.*

We're always trying to raise the standard of service, it's one of the reasons we were name Australian Pest Manager of the Year four times in the past six years. When you employ our services, you know your pest problem will soon be a distant memory. What could be more satisfying than that?

*Please contact us to hear more about our 200% Money Back Guarantee - as due to issues sometimes outside our control, not all services may be covered by this offer.
Talk to us about pest control for your home or business