Why is termite baiting better than using chemicals?
---
Termite Baiting happens to be highly effective in fixing termite infestations in comparison to the more conventional liquid insecticide sprays and soil treatment which you may have heard of before. Liquid insecticide often is able to kill certain quantities of termites but usually falls short of killing the termite queen and king which keep reproducing every day. Making your problem continue. Termite baiting is much more effective in this way.
How does termite baiting work exactly?
The best and the most reliable method of eliminating termites is the use of baits. It is safe because it is targeted towards the pests and does not affect other animals or humans unlike sprays which potentially can. Termite baits consist of cardboard, or other termite food, combined with a slow acting substance that is lethal to termites. The bait must be attractive enough to compete against the presence of competing tree roots, stumps, woodpiles etc. also found in the area. If the bait kills too quickly dying or dead termites may accumulate in the area of the bait station, increasing the chance of other termites avoiding it. Delayed action bait also greatly enhances transmission of the lethal substance to other termites, including those that weren't initially feeding on the bait such as the termite king and queen we mentioned earlier.
Let us help keep you safe, call us for your pest removal needs today – phone 1300 766 614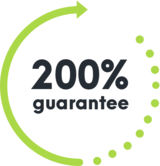 WE'RE NOT HAPPY UNLESS YOU'RE HAPPY
SEE HOW IT WORKS
With Competitive Pest Control Services you'll never have to worry about paying for a job that hasn't been done.

If you're not satisfied with our services, we'll not only give you your money back, we'll return it to you twofold. That's right: you'll not only receive a full refund, we'll also pay to have your pest problem sorted by our competition.*

We're always trying to raise the standard of service, it's one of the reasons we were name Australian Pest Manager of the Year four times in the past six years. When you employ our services, you know your pest problem will soon be a distant memory. What could be more satisfying than that?

*Please contact us to hear more about our 200% Money Back Guarantee - as due to issues sometimes outside our control, not all services may be covered by this offer.
Talk to us about pest control for your home or business