How do pests get resistant to chemicals?
---
Insects unfortunately are known for their incredible (and annoying) ability to develop resistance to insecticides. At the moment multiple species of insects are resistant to almost every chemical insecticide used.
Insects are not the only pests that can become resistant to chemicals, Rats also can become resistant, much like the saying goes what doesn't kill you makes you stronger. This is the case for rats. Ingesting a small amount of poison and surviving it will slightly mutate the DNA of the rat.
A lot of pests create large numbers of offspring, for example insects have large broods. With such a large number of new pests this increases the chances of mutations to occur and also ensures an increase in resistant populations. Upon initially being exposed to insecticides, insects that do not carry a resistance die off, this means that the insects with the resistant genes survive and reproduce, creating more resistant insects.
How do I find the right pesticide for me?
It is vital that you contact a pest control company for recommendations or treatments, every pest problem is unique so the answers to the problem must also be bespoke in many cases. Make sure you are in contact with a pest professional regularly for prevention tips and to maintain your properties safety.
Let us help keep you safe, call us for your pest removal needs today – phone 1300 766 614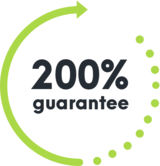 WE'RE NOT HAPPY UNLESS YOU'RE HAPPY
SEE HOW IT WORKS
With Competitive Pest Control Services you'll never have to worry about paying for a job that hasn't been done.

If you're not satisfied with our services, we'll not only give you your money back, we'll return it to you twofold. That's right: you'll not only receive a full refund, we'll also pay to have your pest problem sorted by our competition.*

We're always trying to raise the standard of service, it's one of the reasons we were name Australian Pest Manager of the Year four times in the past six years. When you employ our services, you know your pest problem will soon be a distant memory. What could be more satisfying than that?

*Please contact us to hear more about our 200% Money Back Guarantee - as due to issues sometimes outside our control, not all services may be covered by this offer.
Talk to us about pest control for your home or business