How to remove bees without killing them
---
The honey bee population is slowly diminishing. These insects are one of the most important out there because of their role in pollination, allowing food and crops to grow. Farmers often rent beehives to pollinate their crops. So, if you have a bee problem it is in your best interest to ger rid of them ethically without the already dwindling population being affected.
What methods can be used?
Smoke is one of the most effective ways in which to get bees away from your property and to keep them away. Bees happen to be very sensitive to smell so when they smell smoke, they think it's a fire, causing them to leave and more than likely to not come back.
Due to the strong sense of smell bees have the very strong scent of garlic keeps them at bay. The best way to implement garlic is to make a spray by crushing a couple of cloves of garlic and to mix it with water to create a garlic spray. Spray it around your home and around their hive to try to get them to leave
If these home remedy methods give you no joy it is worth looking into charities that will help relocate the hive or to contact pest control professionals who will know the best steps to alleviate your problem
Let us help keep you safe, call us for your pest removal needs today – phone 1300 766 614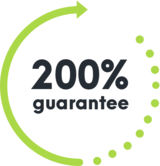 WE'RE NOT HAPPY UNLESS YOU'RE HAPPY
SEE HOW IT WORKS
With Competitive Pest Control Services you'll never have to worry about paying for a job that hasn't been done.

If you're not satisfied with our services, we'll not only give you your money back, we'll return it to you twofold. That's right: you'll not only receive a full refund, we'll also pay to have your pest problem sorted by our competition.*

We're always trying to raise the standard of service, it's one of the reasons we were name Australian Pest Manager of the Year four times in the past six years. When you employ our services, you know your pest problem will soon be a distant memory. What could be more satisfying than that?

*Please contact us to hear more about our 200% Money Back Guarantee - as due to issues sometimes outside our control, not all services may be covered by this offer.
Talk to us about pest control for your home or business