Sydney Pest Control Season – Is it Spring or Summer?
---
When is the best time to get a home sprayed for pests?We wrote a blog last week about the Sydney summer un-officially starting this month. This was a result of the coldest December in fifty years. And the start of the Sydney summer, means the start of Competitive Pest Control's busy season. The Sydney pest control season.
When is the best time to get a home sprayed for pests?
However, now we are looking at a day of rain today, and the possibility of temperatures at twenty degrees. The Sydney weather is really a mystery at the moment, and we wonder if we will get to experience a glorious Sydney summer this year.
It looks like this month's weather looks set to be a usual October weather pattern. Days of rain, humidity, and sunshine. A month of Spring. This would explain the high number of calls regarding bees and wasps that we experienced last week.
In Spring, bees are looking for a reliable food source, and a suitable nest site. This is an important time for bees, and ecology as a whole, as bees provide essential pollination in our gardens. This pollination occurs as bees gather food, unintentionally transferring pollen from one flower to the next.
Spring time is when bees will be most noticed. You may find a high number of bees around your house during this time. They are usually on the lookout for a new home. However, they will usually surround your home for 1-3 days, and then move on to a new location. Competitive Pest Control recommend to only provide pest control for bees when it is an immediate concern for your family's welfare. There is a current shortage of bees in the world, which we will discuss in another blog.
Read More: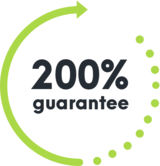 WE'RE NOT HAPPY UNLESS YOU'RE HAPPY
SEE HOW IT WORKS
With Competitive Pest Control Services you'll never have to worry about paying for a job that hasn't been done.

If you're not satisfied with our services, we'll not only give you your money back, we'll return it to you twofold. That's right: you'll not only receive a full refund, we'll also pay to have your pest problem sorted by our competition.*

We're always trying to raise the standard of service, it's one of the reasons we were name Australian Pest Manager of the Year four times in the past six years. When you employ our services, you know your pest problem will soon be a distant memory. What could be more satisfying than that?

*Please contact us to hear more about our 200% Money Back Guarantee - as due to issues sometimes outside our control, not all services may be covered by this offer.
Talk to us about pest control for your home or business